Syria rebels claim to take key city near Jordan border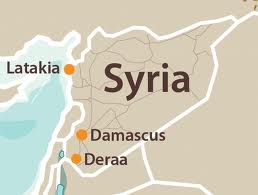 BEIRUT , Lebanon- Rebels took control of the city of Dael in southern Syria on Friday, according to activists and rebel fighters, a notable victory for the opposition in a conflict that has left at least 70,000 Syrians dead.
Dael is located on the strategic highway connecting Damascus to the Jordanian border, which is about 13 miles south of the city.
The reported capture of Dael, which rebel fighters say has a population of approximately 45,000, comes less than a month after rebels took control of the city of Raqqah in northern Syria. Government forces launched a fierce counterattack there with aerial bombing and shelling, but rebels have managed to keep control of the city.
Jabhat al-Nusra, a religious extremist group that the United States has blacklisted for its alleged links to al-Qaeda, played a key role in the battle for Raqqah. But the group, also known as the al-Nusra Front, and other extremist organizations were not involved in the takeover of Dael, according to rebel fighters.
Rebels have been able to capture and hold large swaths of territory in northern and eastern Syria but have yet to establish a solid foothold in the south. Taking over Dael could signal a rebel push to make larger inroads in the southern portion of the country.
On Thursday, Walid al-Zohbi, a Syrian lawmaker from Daraa province, where Dael is located, warned in a parliamentary session broadcast live on state television that rebels are gaining ground quickly in the area.
He said rebels are making gains "in all towns and villages in Daraa province, which is torn from east to west after the army withdrew from many positions," according to the Agence France-Presse news service.
Zohbi added: "They may have pulled out for tactical reasons; we don't know."
Dael, 58 miles south of Damascus, is also about 18 miles east of Syria's border with Israel in the Golan Heights, an area that has become increasingly unstable as rebels fighters have ramped up their attacks.
Last Sunday, Israeli troops destroyed a machine-gun position inside Syria after they were reportedly fired on.
"Any . . . fire from the Syrian side will be answered immediately by silencing the sources of fire when we identify them," Israeli Defense Minister Moshe Yaalon said in a statement after the incident, according to the Reuters news agency.
Rebel fighters launched the offensive to take over Dael because of its key location, and they engaged in fierce clashes with government troops at three checkpoints around the city, according to opposition activists and fighters.
"The Free Syrian Army attacked the city because of its important position," said a spokesman for the rebel force in Daraa who uses the alias Ahmed Rayes. "There was fierce resistance and clashes with the regime army."
At least 16 rebel fighters and 12 army troops died in the fighting, according to the Syrian Observatory for Human Rights, a Britain-based group that monitors the conflict.
One video posted online Friday shows a smoking tank with its turret blown off, surrounded by several buildings damaged in fighting at the northern checkpoint of Dael.
A separate video posted Thursday shows the bodies of two soldiers in green camouflage uniforms at the southern checkpoint of the city after rebels took over the area.
"Take note, soldiers, and to the families whose children are still working with the regime," a man says in the video, "this is the fate of those who collaborate with [Syrian President] Bashar al-Assad."
Washington Post