patriarch Rai urged quick formation of cabinet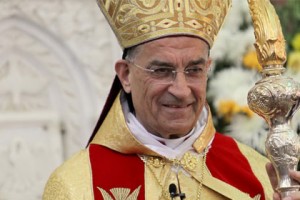 In his Easter message , Lebanon's Maronite patriarch Beshara Boutros Rai urged quick formation of a new cabinet , reiterated his rejection of the 1960 electoral law and stressed that Lebanon should adhere to the self declared dissociation policy with regards to Syrian uprising.
He said a procrastination on an agreement on the new cabinet to salvage the country from political and sectarian divisions and economic downturn will not be tolerated.
President Michel Suleiman has already set April 5 and 6 as the dates for consultations with the parliamentary blocs and independent lawmakers on their choice for a new prime minister-designate, who would in turn form a Cabinet. With no clear agreement on the type cabinet that should be formed to supervise the upcoming elections, some are predicting a delay in the formation process.
Turning to the issue of the electoral law and the expected delay in the elections Rai said:
"The citizens will not accept that their representatives in Parliament violate the Constitution and constitutional deadlines by extending their terms. They seek to extend their term while they have not yet agreed on a new electoral law that would guarantee national unity, and give citizens their guaranteed right to elect representatives and holding them accountable."
Rai accused the law makers of dilly-dallying on the issue of electoral law in order to use the 1960 law in the upcoming election.
" The lawmakers are using their disagreement as an excuse to keep the 1960 law that everyone has publicly rejected, and they are secretly working on holding the elections based on that law," he said.
Rai called for dialogue and said it should be always used at times of crisis . He urged President Suleiman to assume his full responsibilities and also urged all rival parties to cooperate with him at this sensitive stage.
"Lebanon only rises through dialogue," he stressed
Turning to the situation in Syria, he warned against allowing arms smuggling and the use of Lebanese territories as bases to attack Syria.
"We urge the authorities to make sure that arms are not smuggled and that Lebanese territories are not used to transfer them to Syria or that its land is not used for bases of defense or attack," Rai said.
He appealed to the Syrians to end the violence and engage in dialogue.
"The bickering parties in Syria … who are killing dozens of innocent civilians daily should throw away their arms and money sent to them from abroad," Rai said.
Rai also urged the neighboring countries to help the Syrian refugees:
"The region's countries should welcome the Syrian refugees and coordinate their assistance inside and outside Syria," he stressed