10 killed, 20 injured in mortar attack at Damascus University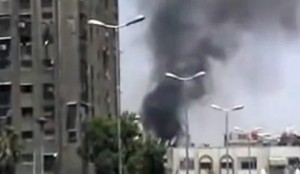 A Syrian government official says 10 people have been killed and 20 wounded in a mortar attack against Damascus University.
The official says the mortar rounds struck the university's architecture department in the central Baramkeh district on Thursday. He spoke to the Associated Press on condition of anonymity because he wasn't authorized to give official statements.
"Terrorists fire mortar rounds on the faculty of architecture in Damascus, and according to initial reports several people have been killed or wounded," The government-run Al-Ikhbariya TV station  said, using the regime term for rebels fighting against the regime of President Bashar al-Assad.
The  mortar shells struck the cafeteria  according to the report which  showed footage of tables and chairs turned upside down, shattered glass and blood on the floor.
Agencies