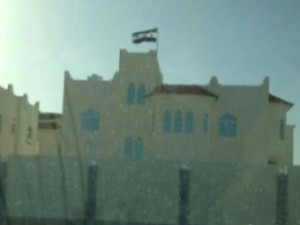 The Syrian National Coalition which has been recognized by the Arab League as the sole representative for Syria, was handed the Syrian embassy in Doha on Wednesday.
In the presence of Arab and Western ambassadors, the president of Syrian National Coalition, Moaz Alkhatib and Khalid al-Atiyah, Qatari state minister for foreign affairs, cut the ribbon at the entrance to the embassy.
The national anthem of Qatar and Syria played as Qatari and Syrian opposition figures stood underneath the Syrian opposition's flag framed in red, green, white and black balloons.
The SNC named Nizar al-Haraki as its ambassador to Qatar.
This development comes after the Arab leaders issued a declaration at the summit on Tuesday granting Damascus' seat at the Arab League to the Syrian opposition and acknowledging member countries' right to provide all means of self-defense to the Syrian opposition.
Qatar was the driving force behind the formation of oppositional SNC and was among the first countries to recognize the group as "legitimate" representatives of the Syrian people.
Agencies