Russians raid Amnesty International Office in Moscow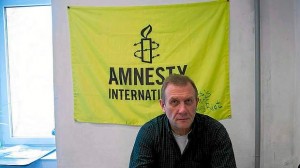 The Russian authorities on Monday raided the local headquarters of the human rights group Amnesty International, the latest in a continuing series of office searches intended to put pressure on nongovernmental groups.
The head of Amnesty's office in Russia, Sergei Nikitin, said in a telephone interview that officials from the general prosecutor's offices and from the tax police arrived unannounced on Monday morning to conduct what they described as an "audit" and demanded a list of documents, most of which Mr. Nikitin said were already on file with the government.
"They're sitting and waiting for me to bring the originals and copies," Mr. Nikitin said. "This is ongoing because we, of course, were not expecting them today."
He added: "They don't have any concrete complaints. They say it's a regular check and other cliché phrases."
Last week, the authorities conducted a similar raid at the offices of Memorial, an international historical society and human rights group that has operated in Russia and other post-Soviet states for more than two decades.
Pavel Chikov, a member of Russia's presidential human rights council, said offices of dozens of nonprofit organizations had been searched across Russia in March, including at least 20 organizations on Monday.
"We can definitely say it's been the most active day for these searches so far," he said in a telephone interview.
The Kremlin has taken steps in recent months seeking to clamp down on nonprofit organizations, particularly those that receive financing and other support from abroad, and the Russian Parliament has adopted a battery of legislation including various new restrictions and requirements.
Depending on how they are financed, certain groups, for instance, are now required to register as "foreign agents." And certain types of nonprofit groups working in the political realm are barred from employing foreigners in leadership positions.
A representative for the Ministry of Justice told the Interfax news service on Monday that information from the raids would be used to check compliance with the new law on foreign agents. The ministry has not made any charges under the new law since its adoption last year.
Some groups that received substantial financing from abroad, including organizations that worked with the United States Agency for International Development, have moved their offices out of Russia. In September, the Kremlin ended its cooperation with U.S.A.I.D., which had included more than 20 years of partnership on various projects, including public health and civil society campaigns in Russia.
In the past, Russian officials have used a number of bureaucratic tactics, including complex registration schemes and even accusations of software piracy, to disrupt the activities of nonprofits they do not trust.
In February, President Vladimir V. Putin cautioned top officials in Russia's security services, the F.S.B., to beware of nongovernmental organizations that may "meddle" in the country's internal affairs.
In Moscow, Mr. Nikitin said the prosecutors and tax police were accompanied by a crew from the government-controlled NTV television channel, which is known for producing salacious reports about critics of the government.
"Right behind them came employees from the state television NTV, who aren't leaving and are trying to break in," he said. "They're knocking, calling, and this is creating additional difficulties for us in this unpleasant situation." He added that the officials on site professed no knowledge of how NTV had learned of the raid.
On Thursday, NTV showed footage from a raid at the offices of Memorial, in a segment titled "Memorial Is Hiding Its Revenue From the General Prosecutor."
But Mr. Nikitin said the government's actions were far more concerning. "All of this is a form of scaring us. It's a way for them to show that they aren't taking their eyes off of us," he said. "You can call it a toughening of the government's relationship to rights organizations, because in the past we have never faced these smear campaigns."
NY Times