Fighting escalates in north lebanon as death toll rises to 7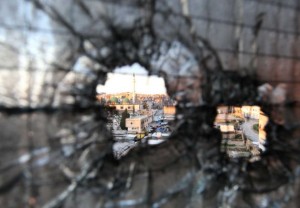 Clashes between supporters and opponents of Syrian President Bashar Assad in Lebanon's second city of Tripoli  escalated Saturday night and  shattered  a day-old ceasefire in the latest round of fighting that has killed seven people.
According to security sources  clashes using  automatic weapons, rocket-propelled grenades and mortars  erupted as Lebanese Army units were preparing to deploy in the mainly Alawite Jabal Mohsen district of Tripoli , where residents back Assad against the rebels s who are seeking an end to the Syrian president's rule.
The fighting also resulted in the  cutting  off  of all mobile communications  in the city
Commenting on the unrest in the northern city, Grand Mufti Sheikh  Mohammad Rashid Qabbani Saturday called for calm and urged residents of the city to cooperate with state institutions.
Lebanon caretaker Minister of Interior Marwan Charbel who visited the northern capital on Saturday  called for formation of a new government as soon as possible , warning that the deadly unrest in  Tripoli is "very dangerous" and that the entire country is in danger.
"There are some who want trouble in Lebanon, some media being among them, but there is something more important and what is happening in Tripoli is [grave] and is linked to regional [developments]," he said, in a reference to the conflict in Syria.
Charbel urged  Speaker Nabih Berri   to convene a session of Parliament to sign a pact that has the headline 'Security in Lebanon', particularly in Tripoli,"
Clashes between the residents of  Bab al-Tabbaneh and Jabal Mohsen have been  ongoing  since May 2008, but have significantly escalated  since the Syrian uprising began in 2011.