Arslan calls cabinet resignation" disgusting"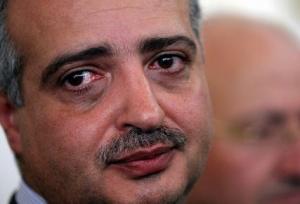 Lebanese Democratic Party leader MP Talal Arslan criticized the resignation of the cabinet of former PM Nagib Mikati calling it disgusting .
"The cabinet's resignation is disgusting. Selfish and personal interests have become intertwined with [politics]," Arslan, a close ally of Syria and Hezbollah said in a statement issued by his press office on Sunday.
He also questioned the real reason behind caretaker PM Mikati's move.
"There is a [hidden goal] behind the resignation of Najib Miqati's cabinet," Arslan added.
His comments came 2 days after the government of Mikati collapsed when Hezbollah and its allies blocked the creation of a body to supervise parliamentary elections and refused to extend the term of Internal Security Forces chief Ashraf Rifi.
On Saturday, President Michel Suleiman accepted Mikati's resignation and requested him to continue in his role at the head of a caretaker government until a new one is formed.