Khamenei warns: Iran would destroy Israel if attacked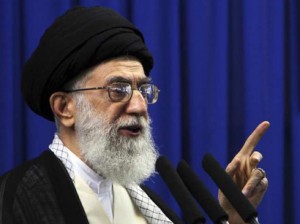 Iranian Supreme Leader Ayatollah Ali Khamenei warned on Thursday that the Islamic Republic would destroy the Israeli cities of Tel Aviv and Haifa if its nuclear infrastructure came under attack from the Jewish state.
Israel puts little stock in big power negotiations aimed at curbing Iran's uranium enrichment – which Western nations suspect is a conduit to nuclear weapons capability – and has repeatedly hinted at pre-emptive war against its arch-enemy.
During a visit to Israel on Thursday, U.S. President Barack Obama acknowledged its security concerns, saying, "America will do what we must to prevent a nuclear Iran." But he also said big powers believed there was still time for a diplomatic solution.
Russia said Iran and six global powers made headway in expert-level talks this week to ease the 10-year-long standoff over Tehran's nuclear ambitions, but the risk of backsliding towards confrontation remained.
Higher-level political talks between the powers and Iran are to resume in the Kazakh city of Almaty early next month, part of a concerted effort to avert another Middle East war that could balloon oil prices and wreak havoc on the global economy.
Khamenei, in a televised speech marking the Iranian new year, said: "At times the officials of the Zionist regime (Israel) threaten to launch a military invasion but they themselves know that if they make the slightest mistake the Islamic Republic will raze Tel Aviv and Haifa to the ground."
But the top Shi'ite Muslim cleric, Iran's most powerful figure, dismissed any threat from Israel, describing it as "not big enough to stand out among the Iranian nation's enemies".
The standoff now turns on Iran's enrichment of uranium to a fissile purity of 20 percent, which the West sees as a big step towards processing the material for use in nuclear bombs. Tehran says 20 percent enrichment will yield solely fuel for a medical research reactor, and that its nuclear quest is wholly peaceful.
"We have told you numerous times that we are not after nuclear weapons," Khamenei said, addressing Washington in front of thousands of adoring faithful who had come to the Imam Reza Shrine in Mashhad to hear him speak.
COOL TO DIRECT U.S.-IRANIAN CONTACT
He responded coolly to recent U.S. suggestions of direct talks between the two countries, which have had no diplomatic relations since Iran's 1979 Islamic Revolution and the ensuing hostage crisis involving American diplomats in Tehran.
"I am not optimistic about these talks. Why? Because our past experiences show that talks for the American officials do not mean for us to sit down and reach a logical solution … What they mean by talks is that we sit down and talk until Iran accepts their viewpoint," the top Shi'ite Muslim cleric said.
"I am not optimistic about their comments but I am not opposed either," he said adding that the solution to the issue was "close-by and easy" if only the United States genuinely wanted to reach an agreement.
Touching on a central Iranian demand, Khamenei called for Iran's "natural right" to enrich uranium for nuclear energy to be recognized by the world. Western powers have refused on the grounds that Iran has hidden nuclear work from U.N. inspectors in the past and not opened up to their investigations.
At technical-level talks in Istanbul on Monday, the six powers gave Iran more details of proposals made in Almaty where they offered Tehran modest sanctions relief if it curbed its most sensitive nuclear activity.
"This progress is real but it is not sufficient to speak of a definitive shift," Russian Deputy Foreign Minister Sergei Ryabkov, Moscow's chief negotiator, told reporters.
"We cannot say this progress is irreversible. This alarms us a little, but from round to round, we have a more and more businesslike discussion of all the issues."
LIMITED CONCESSIONS ON OFFER
Western officials have said the offer entailed an easing of a ban on trade in gold and other precious metals as well as an import embargo on Iranian petrochemical products.
In exchange, a senior U.S. official said, Iran would among other things have to suspend uranium enrichment to the fissile concentration of 20 percent at its Fordow underground facility and "constrain the ability to quickly resume operations there".
Iran has been wary, suggesting that the powers are asking for concessions more significant than they have offered Tehran.
Obama, in a speech to Israeli university students, said "strong and principled diplomacy" remained the best way to ensure that Iran eschewed nuclear weapons.
"We know that there remains time to pursue a diplomatic resolution …with the sense of urgency that is required. But Iran must know this time is not unlimited," he said.
"Iran must not get a nuclear weapon. This is not a danger that can be contained. I have said to the world that all options are on the table for achieving our objectives," Obama added, alluding to last-resort military action.
Israeli cabinet minister Silvan Shalom, asked whether Israeli and U.S. timelines for action on Iran were converging, told Israel Radio: "He (Obama) also knows that there is a target date for the matter of attacking Iran to deny it nuclear weapons. He knows it, and we know it."
KHAMENEI: IRAN WON'T BUCKLE TO PRESSURE
Khamenei said Iran's struggles over the past year against international sanctions imposed over its contested nuclear program resembled a battle and that its enemies had confessed to trying to "cripple the Iranian nation".
"What happened last year, we need to learn a lesson," he said, alluding to what he described as Iran's significant scientific and military advances. "This vibrant nation will never be brought to its knees."
But he acknowledged that Iran had work to do to ensure it could meet the challenge of economic warfare waged against it. He said Iran needed to shake off dependence on oil exports and the government needed to adopt astute economic policies.
The last 12 months have inflicted a heavy financial burden on Iran's population as sanctions, combined with what critics say is government mismanagement, have torn the economy.
With inflation and unemployment soaring and the value of the Iranian currency halved since a year ago, the vast majority of Iranians have tightened their belts to celebrate Iran's new year – or Nowruz, the nation's most important holiday.
Traditional foods and purchasing new clothes – central Nowruz traditions – have become a great deal more expensive.
The government has set up subsidized local markets to try to restrain food prices and warned Of heavy fines for those caught profiteering, but that has not prevented an inflationary spiral.
A kilo of pistachios has more than doubled in recent months, forcing many Iranians to stop buying a traditional Nowruz food.
"How are ordinary people suppose to afford that? What would be next? Probably next year, we can't even afford simple fruits," said 48-year-old Shahrokh, who works in a taxi agency.
Reuters