A pro Assad cleric killed in suicide bomb inside a mosque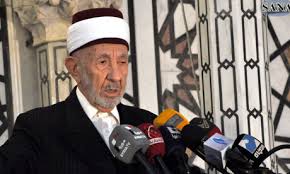 A suicide bomber has blown himself up during evening prayers inside a mosque in Damascus, killing a prominent Sunni Muslim preacher and longtime supporter of President Bashar Assad, state TV has reported.
The death removes one of the few remaining pillars of support of the Alawite leader within the minority sect that has risen up against him.
Sheikh Mohammad Said Ramadan al-Buti, an 84-year-old cleric known to all Syrians as a religious scholar who often appeared on TV, was killed in the explosion in the Eman mosque in the central Mazraa district.
Syrian TV did not give more details but said the explosion injured many people. It occurred at a time the mosque would have been packed with worshippers for Friday evening prayers.
TV footage showed wounded people and bodies with severed limbs on the bloodstained floor of the mosque. Sirens echoed in the capital as ambulances went to the scene, which was sealed off by the military.
Al-Buti's death is a big blow to Syria's embattled leader, who is fighting mainly Sunni rebels seeking his downfall. Al-Buti has been a vocal supporter of the regime since the early days of Assad's father and predecessor, the late President Hafez Assad.
In recent months Syrian TV had carried his sermon from mosques in Damascus live every week. He had a regular religious TV programme.
Opposition denounces the crime
The president of the Syrian Opposition Council, Ahmed Moaz Al-Khatib, said the opposition "categorically condemn the assassination".
"This is a crime by any measure that is completely rejected," he told the AFP news agency from Cairo.
The attack came hours after the UN said it would investigate allegations that chemical weapons had been used in Syria earlier this week.
The Guardian