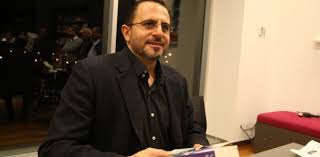 Rami Ollaik, a Lebanese writer who split from Hezbollah told Paula Yacoubian at Future TV on Thursday that he and his family received so many letters criticizing him for appearing on Future "as if I am appearing on an Israeli TV station ".
Ollaik stressed during the interview that he has absolutely no relations with any intelligence operations despite the attractive offers he received from the CIA and FBI and said he is banned from entering the United states .
He criticized Hezbollah's behavior and accused it of creating a Sunni Shiite strife in Lebanon .
"Where is my advantage as a Shiite to go to Syria and make the rest of the Lebanese people paying a hefty price and destroy our country?" He added: " Some of the messages that I received indicated that my appearance on Israeli television is a lot easier and more acceptable than my appearance on Future TV, and here I wonder who the real enemy is and how long we will continue to distrust each other?"
He revealed that he has discovered a lot of corruption within the Hezbollah organization back in 1996 when he finally decided to quit . He also revealed that Hezbollah chief Sayyed Nasrallah gets all his orders from Iran and he has personally met the top Iranian official who told him so.
Ollaik stressed that Hezbollah is strictly a security and intelligence group and is not fit to be a political organization .
Ollaik who was born in Khiam in south Lebanon in 1972 was recruited by Hezbollah at the age of 14.
Ollaik founded Lebanon Ahead, a movement aimed at improving the country and changing it into a peaceful and democratic nation by creating a platform for communication and understanding among citizens. Through it, he founded a coalition of independent democratic civic forces "Takadom" .
Ollaik is an attorney, a professor of beekeeping at the American University of Beirut, a legal and economic consultant, and a writer.