Lebanon president condemns Syrian air strike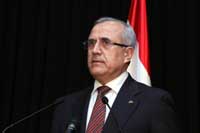 Lebanese President Michel Suleiman criticized on Tuesday a Syrian air strike on Lebanon's side of the border between the two countries, calling it an "unacceptable violation" of Lebanese sovereignty.
Syrian air force jets fired four rockets at a remote section of the border with Lebanon on Monday, security sources said, four days after Damascus warned it may strike at Syrian rebels taking refuge across the frontier.
The president's comments were a rare rebuke of Syria, a powerful, larger neighbor that once dominated Lebanon.
Syria's foreign ministry responded later on Tuesday in a statement read on state television: "Syria stresses its respect for Lebanese sovereignty and its support for Lebanon's security and stability."
Lebanon, which had its own civil war from 1975 to 1990, has maintained a policy of "dissociation" from Syria's two-year conflict. But Suleiman has criticized Damascus in the past when deadly clashes have spilled across the border.
Many Lebanese officials say they feel their tiny country is increasingly at risk of being dragged into Syria's civil war, which the United Nations says has killed 70,000 people.
Reuters