Fear of run on banks in Cyprus as bailout deal may collapse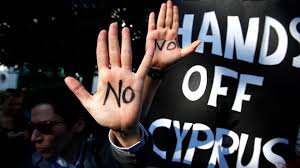 The widely criticized Cyprus bailout deal looked set to collapse despite a last-minute compromise attempt Tuesday, plunging one of the smallest European states closer to financial oblivion.
Lawmakers appeared likely to reject the unprecedented overnight tax on all bank accounts, CNBC reported, even after the government said smaller savers would be exempted.
The European deal could also be scuppered by a furious Russia, which is one of the biggest foreign investors in Cyprus and which stands to be among the biggest losers.
Reuters said the situation had "potentially severe consequences for the rest of the troubled euro zone."
One analyst told CNBC Russia might even seek revenge by disrupting energy supplies to Europe. Russian President Vladimir Putin on Monday criticized the bailout as "unfair, unprofessional and dangerous."
Cypriots awoke Saturday to the surprise announcement that up to 10 per cent of their bank account deposits might be seized as part of a $13 billion rescue package agreed by the European Union countries and the International Monetary Fund (IMF).
Banks on the Mediterranean island have been ordered to remain closed until Thursday amid fears of a massive rush to withdraw deposits in advance of the deal, further precipitating a financial collapse that could cause an economic ripple effect throughout the region and beyond.
Thousands withdrew savings over the weekend, emptying ATMs and sending global money markets into a steep dive.
Panicos Demetriades, chief of the country's central bank, told the Cypriot parliament's finance committee Tuesday that banks stand to lose more than 10 percent of their deposit base within a matter of days if a levy on bank deposits is imposed.
The European bailout has been widely criticized by commentators. In an editorial, Bloomberg said it was the "worst" decision of the entire regional financial crisis, while the Economist panned it as"unfair, short-sighted and self-defeating."
Cypriot and euro zone officials sought to soften the initially proposed levy of up to 9.9 percent, ensuring that deposits below the value of $130,000 were not affected, in order to ease the burden on small savers and overcome lawmaker opposition, CNBC reported.
'Destroying our economy'
A number of members of Cyprus's parliament have told CNBC that the legislation to tax bank deposits is unlikely to pass.
Parliament is due to convene at 6 p.m. local time (12 p.m. ET) on Tuesday and despite the ruling party saying they will approve the proposal, several parties have said they will reject the levy, CNBC reported. No single party has a majority in the 56-member chamber to push through the vote.
"At this point in time, we are saying [to international lenders] that if you think that by doing this you are fixing things, by actually destroying our economy and one of the biggest and strongest financial sectors we had on this island, then we have to say 'no'," Efi Xanthou, international relations secretary of the Cyprus Green Party told CNBC.
Adding to the uncertainty,Greek media reports have suggested Russian energy giant Gazprom might offer Cyprus an alternative bailout deal.
Russian citizens account for the majority of the billions of euros held in Cypriot banks by foreign depositors, and Moscow has already given the Mediterranean country a sovereign loan to ease its financial crisis.
Steve Keen, professor of Economics & Finance at the University of Western Sydney, told CNBC that Russia could retaliate against the perceived proxy attack on its citizens, and their money.
"If you try to target the Russians, and there's President Putin acting under the image of the 'strong man' of Russia, why would he not then decide to shut down gas supplies to Germany until that was righted?
"If you're going to attack money laundering then attack it directly, don't make Cypriot peasants and small businessmen collateral in your campaign against Russian oligarchs. Declare the campaign rather than doing it under the carpet like this too," he added.
CNBC