Israel warplanes dropped 30 flares over s. Lebanon coast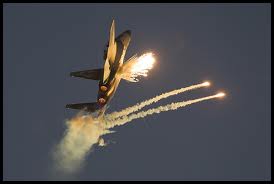 Israeli warplanes dropped about 30 flares on Monday along the Mediterranean Sea coast between the southernmost Lebanese town of Naqoura and Tyre , Lebanon's National News Agency reported.
Earlier Monday, the Lebanese army issued statements alleging a series of violations of Lebanese airspace by Israeli jets.
Israel has been violating Lebanon's airspace on regular basis, in violation of United Nations Security Council Resolution 1701 since the end of the 2006 war with Hezbollah, but has escalated its flights over Lebanon in recent weeks amid regional tensions resulting mainly from the civil war in neighboring Syria.