PSP marks 36th anniversary of Jumblatt's assassination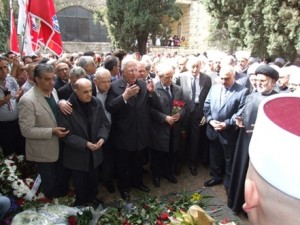 The Progressive Socialist Party (PSP) marked on Saturday the 36th anniversary of the assassination of its founder , Kamal Jumblatt who was assassinated by the Syrian regime on March 16, 1977 .
He was the main leader of the anti-government forces who opposed the Hafez Assad regime during the Lebanese Civil War .
His son MP Walid Jumblatt , who is the current PSP leader headed a march from his Mukhtara palace to his father's grave on Saturday
Following the march he warned that "difficult days lie ahead for Lebanon", urging political factions in the country to work on preventing sedition.
"We must all work towards preserving national unity and preventing sedition as tough days lie ahead". He stressed
In an interview with Aljazeera, few days before his assassination in 2005, George Hawi, a former key member of March 14 alliance said he knew who killed Kamal Jumblatt.
He said "We knew for a long time who killed Kamal Jumblatt. And today I am going to disclose in a responsible manner the name of the killer. Dr. Rifaat Al Assad , brother of Syrian president Hafez al Assad is behind the murder of Jumblatt."
Rifaat is the uncle of Syrian president Bashar Al Assad.
That was the first time the killer of Jumblatt was officially named. No one, during the Syrian occupation of Lebanon could ever dare utter such information
Hawi also said: " In 1977 Rifaat held a very influential position in the Syrian government".
Hawi, the former secretary general of the Lebanese Communist Party was assassinated on June 21, 2005 in Beirut. March 14 alliance accused Syria of being behind his assassination