Bulgaria Won't Initiate Hezbollah Blacklisting, says new PM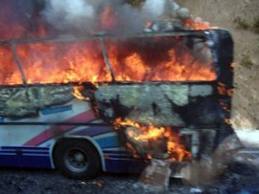 Bulgaria does not intend to initiate the procedure to add Hezbollah to the EU's list of terrorist organizations , Bulgarian caretaker PM Marin Raykov said on Saturday.
"We will not initiate a procedure. We will only present the objective facts and circumstances that we uncover," said the new Bulgarian PM in an interview for the national radio.
"Let our European partners decide. At present, the debate is going on in the whole EU, " the former Bulgarian ambassador to Paris added.
The issue of Hezbollah's EU blacklisting came to the fore after the July 2012 terrorist attack against Israeli tourists in the Bulgarian resort city of Burgas.
Israel accused Hezbollah and Iran of being behind the incident.
In early February, Tsvetan Tsvetanov, then Bulgaria's Minister of Interior, made an official statement saying the probe on the attack gives grounds to believe it was organized and carried out by Hezbollah's military wing.
Novinte