FSA: Hezbollah sending reinforcements to borders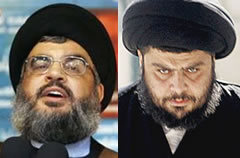 Free Syrian Army spokesperson Louay Al Mokdad said on Saturday that Hezbollah is sending military reinforcements to the Lebanese-Syrian borders to link up with the forces of its Iraqi ally against the rebels in Syria.
"There is an agreement between Muqtada al-Sadr, an Iraqi Shiite political leader and Hezbollah to carry out operations inside Syria," Mokdad revealed to Future TV on Saturday.
Sadr heads up the Mahdi Army militia . The Mahdi Army was formed by Muqtada al-Sadr and the late Hezbollah commander Imad Mugniyah in April 2003 following the end of Saddam Hussein's regime. Most "believe Sadr's overarching goal is to create a state-within-a-state like Hezbollah until he can take power in Iraq.
Mokdad also accused Hezbollah of "exploiting religious beliefs to claim that the war in Syria has become a religious one."
He expressed hope that "the Lebanese Armed Forces would deploy along the borders with Syria.
Meanwhile, Al-Arabiya television quoted the Syrian Revolution General Commission as saying that Hezbollah was sending reinforcements to Lebanese villages along the border with Syria and setting up operational centers.
Lebanon has officially pledged neutrality in the violence engulfing its neighbor, but has found itself increasingly embroiled in the civil war.
Lebanon's opposition backs the revolt, which entered its third year on Friday, while the Shiite Hezbollah and its allies stand by the regime.
Violence has already spilled over into Lebanon on several occasions, causing fatalities on the Lebanese side, and on Thursday the UN Security Council expressed "grave concern" about cross-border attacks.