Syria crisis: Pledges made in Kuwait not honored, UN says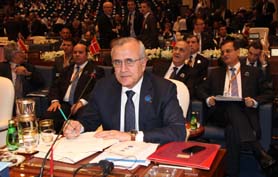 UNITED NATIONS, March 2, (KUNA): The UN Top Humanitarian official Valerie Amos expressed regret recently that the $1.5 billion pledged by the participants at the Donor Conference in Kuwait on January 30 to help the Syrian people have not been honored at a time the humanitarian situation is deteriorating.
She told reporters following a closed-door meeting of the Security Council on the humanitarian situation in Syria that out of the $1.5 billion pledged in the Kuwait Conference, her office received only $200 million and "we have not yet received $1.3 billion of the money that was pledged." The $1.5 billion was to be divided as follows: $500 million to the Syrian people displaced inside the country and $1 billion to the Syrians who fled their country as refugees and are now living in neighbouring countries.
According to UN statistics, only 20 percent of the $500 million and only 19 percent of the $1 billion have been cashed. On her work with the Syrian government and opposition, she said "we are doing all we can to engage in discussions, but quite frankly, this pace at which we were able to do this, is much slower than the pace at which the crisis is evolving." "We asked for $1.5 billion for our response for the next 6 months. Those figures are already out of date given the projections we had at the end of last year and where we are now," she said.
"The first two months of this year have been a real game changer. It demands more of us, to scale up our operations, but even if we work full tilt, the scale is outpacing whatever we do on the response side," she added, and the funding should be stepped up to the level of needs.
British Ambassador Mark Lyall Grant later told reporters that his and other delegations that this sort of briefings on the humanitarian situation in syria "should be held in public and not in consultations so we would certainly support the fact that the next briefing of this kind should be held in public so that a wider audience can hear the disturbing nature of the briefings that we heard today."
Saudi Arabia, Kuwait and the United Arab Emirates pledged $300 million each to help fund humanitarian efforts for millions of Syrians affected by nearly two years of conflict.
About 77 local, regional and international charity organizations took part in the conference
Arab Times/ agencies
Photo: President Michel Suleiman urged the donors to provide Lebanon with $370 million assistance for refugees from Syria and called for countries to take in some of the displaced . Lebanon, a country of four million is now hosting over a million Syrians according to reports.