Israel's Peres urges Arabs to stop Syria massacres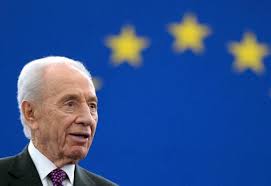 Israel's Shimon Peres called Tuesday for Arab intervention "to stop the massacre" in Syria as he delivered the first speech by an Israeli head of state to the European Parliament in almost three decades.
The free world "cannot stand by when a massacre is carried out by the Syrian president against his own people and his own children. It breaks all our hearts," he said.
Saying "the intervention of Western forces would be perceived as foreign interference," Peres said the best option to end two years of tragedy in Syria "might be achieved by empowering the Arab League, of which Syria is a member, to intervene."
The 22-member Arab League pulled out its observer mission to Syria after only a month in January last year amid controversy after failing to halt the regime's campaign against the rebels.
"The Arab League can and should form a provisional government in Syria to stop the massacre, to prevent Syria from falling to pieces," Peres told the 754-member European Parliament.
"The United Nations should support the Arab League to build an Arab force in blue helmets," he said.
Asked at a news conference immediately afterwards whether he was indeed calling for military intervention by an Arab force, Peres said he did mean "a force" but that its actions could be as a peacekeeping force and "not necessarily military".
Peres warned that Syrian President Bashar al-Assad was a threat to the entire region because of his arsenal of chemical weapons which must be prevented from falling into the wrong hands.
Winding up an eight-day tour of Europe, the 89-year-old leader also called for peace in the Middle East, saying the upcoming formation of a new Israeli government "is an occasion to resume peace negotiations."
Reiterating a message delivered several times over the past days, Peres said Europe's historic achievement in turning a continent at war into one at peace could be mirrored in the Middle East.
The Nobel peace laureate singled out Iran as the world's 'Number One' enemy.
"The greatest danger to peace in the world is the present Iranian regime," he said, attacking Tehran not only for "aiming to build a nuclear weapon" but also for violating human rights by hanging people and discriminating against women.
He also slammed Iran for supporting global terrorism, notably via "its main proxy", Hezbollah, blaming the group for dividing Lebanon, supporting Assad and sowing terror across the world, including in Europe.
The EU is already under pressure from Israel and the United States to put Hezbollah on a terrorist blacklist and Peres added his voice to the calls.
"We appeal to you — call terror, terror," he said. "Save Lebanon from terrorist madness. Save the Syrian people from Iran's proxies. Save your citizens and ours from Hezbollah."
The last Israeli head of state to address lawmakers from the bloc's then 10 nations was Chaim Herzog 28 years ago.
AFP