UK to keep options open on arms for Syrian rebels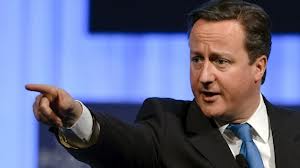 Britain is to keep open its options on providing arms to Syrian rebels after David Cameron indicated that Britain would be prepared to bypass the EU arms embargo if other member states refuse to lift the measure in May.
The prime minister, who last week approved the provision of armoured four-wheel drive vehicles and body armour for Syrian opposition leader as part of a £9.4m package of non-lethal equipment, warned that inaction could encourage jihadi groups.
Cameron, who was appearing before the liaison committee of senior MPs, indicated that the government might be prepared to do more when he reminded MPs, in response to questions about the EU arms embargo on Syria, that Britain has an independent foreign policy.
Asked by the chairman of the commons foreign affairs select committee Richard Ottaway whether he was prepared to veto the EU arms embargo when it is reviewed in May, Cameron said: "I would hope that wouldn't be the case. I would like to continue with an EU approach. We've just amended [the arms embargo] so we can supply non-lethal equipment. I hope we can persuade our European partners, if and when a further change becomes necessary, they'll agree with us. But if we can't then it's not out of the question that we might have to do things in our own way. It's possible.
"We are still an independent country. We can have an independent foreign policy. If, for instance, we felt action needed to be taken to help bring about change in Syria, to help end this appalling bloodshed and we felt our European partners were holding that back then we'd have to change the approach. But that is not what I hope will happen. William Hague did a very good job persuading his colleagues to amend the terms of the arms embargo so we can provide this equipment."
The prime minister said it was important to work with opposition groups to ensure that opposition groups committed to a "pluralistic and democratic future" have the upper hand. Cameron said: "It is difficult to do that if you are not engaged in supplying anything in terms of help in the work they are doing."
Cameron admitted there "were dangers in any course of action" when Ottaway highlighted the involvement of Jihadi groups from outside Syria. But prime minister said: "There is a danger in inaction. While the world has stood by and frankly not done enough in Syria what has happened? As well as 70,000 people being murdered you have seen the Jihadist elements of the opposition grow.
"So doing nothing is a positive choice in this case. It may be that doing nothing the situation gets worse and the level of Jihadism gets worse. My argument is by working with the opposition, by supplying part of the opposition and helping part of the opposition you can at least have influence with your partners."
Guardian