Ahmadinejad eying "Putin-Medvedev Plan" for Iran
Three months before Iranians vote for a new president, the election is shaping up to be livelier and more contentious than many expected.
And the man who has no chance of winning — President Mahmoud Ahmadinejad, who is barred from running because of term limits — is taking advantage of the competitive political landscape with populist moves widely seen as aimed at shoring up support for his preferred successor. Increasingly, his many rivals seem to be worried that it is working.
A voracious debate about whether Iran's ruling clerics will allow a "free" election — that is, one open to all political factions — has played out here, with Ahmadinejad and two other former presidents among the loudest voices calling for an open field. Although the final candidate list will not be clear until the 12-member Guardian Council decides who is eligible in May, analysts say domestic and international pressure will probably leave the establishment little choice but to approve candidates from across the political spectrum.
That means the man believed to be Ahmadinejad's presidential pick, his former chief of staff, Esfandiar Rahim Mashaei, might be on the ballot despite earlier speculation that he would be declared ineligible. Mashaei, like Ahmadinejad, has fallen out of favor with the ruling clerics and is viewed as an even stronger opponent of a powerful clergy.
Against that backdrop, Ahmadinejad is re-exerting efforts to extend presidential might within Iran's power system by extending cash subsidies to the public and proposing a budget that imposes widespread government cuts but massively boosts funding to the executive branch. He has also helped his camp gain ground among so-called reformists by continuing to rely on nationalist rather than Islamist rhetoric, and he has fashioned himself as a whistleblower against corruption.
Opponents are showing unusual signs of worry.
"If, by Ahmadinejad's pressures and threats, Mashaei is approved by the Guardian Council for candidacy, then we have to consider the revolution finished," influential parliamentarian Ali Motahari, who is related by marriage to the powerful parliament speaker, Ali Larijani, said in an interview with the Ghanoon newspaper.
"Those who are known as the 'deviant current' have plans for the elections, and if we principlists do not unite, then we do not know who will run the country for the next eight years. One of the principlists must win, and we must not let the election go to a runoff," Ali Akbar Velayati, a former foreign minister who is among the conservative "principlists" loyal to the concept of clerical rule, told the state-run Fars News Agency. They view Ahmadinejad and his allies as "deviators" from the ideas of the Iranian revolution.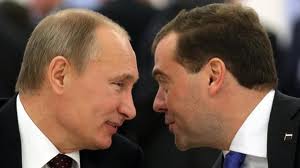 Ahmadinejad recently vowed to continue "working until 9 a.m. on inauguration day." Some analysts and rivals say he is seeking to stay relevant long after that, accusing him of devising a "Putin-Medvedev Plan" to install Mashaei for a term and then run again in 2017. Mashaei has said nothing about his political intentions, but he is making more public appearances, some alongside Ahmadinejad.
The execution of such a plan is unlikely, but few here think Ahmadinejad will become irrelevant.
"I strongly believe that Ahmadinejad is not going to get off the train of power and will resist until the end. So if principlists want to take power from him, they must use force," Sadegh Zibakalam, a political science professor at Tehran University, told an Iranian news agency.
Despite losing much of the support he once enjoyed from the clergy, state television and the influential Republican Guard Corps and Basij militia, Ahmadinejad has maintained influence with a base of public support, by drawing on his working-class roots to style himself as a man of the people.
His most powerful tool is money, or the promise of it. In addition to monthly cash payments that have gone to millions of Iranians since late 2010 to compensate for the removal of subsidies, he handed out a recent one-time gift for the Iranian New Year on March 20. Ahmadinejad has consistently said that he would like to give more money to the people but that the parliament has blocked him from doing so, fueling the perception that he, not lawmakers, understands the problems of common people.
He has also at times offered an alternate but publicly appealing version of economic reality, criticizing the high cost of domestic cars whose prices are determined by a ministry under his control and boasting of job creation despite rising unemployment.
Recently, Ahmadinejad has attacked rivals — particularly the powerful Larijani family, who are considered by many Iranians to be part of a new aristocracy — with graft accusations and threats to unveil supporting evidence. In February, he played a video in parliament that showed one of Ali Larijani's brothers offering an illegal insider deal to one of Ahmadinejad's cabinet ministers.
Despite its apparent momentum, Ahmadinejad's side faces some hurdles. Charges of financial corruption have never been leveled at the president, but some of his allies have been implicated in major banking scandals. Four banking officials believed to be associated with the president's allies were sentenced to death in February in a case that saw nearly $3 billion disappear from state coffers. The president has been silent on that verdict.
State television is no longer the tool the president once skillfully used to his advantage, most famously in a series of live debates leading up to his 2009 reelection, in which he accused his three opponents of being part of a cabal against him.
But last month, the network interrupted a live interview and edited out some of the president's answers. This week, it aired a documentary about the difficult relationship between the Islamic republic's first president, who was impeached and now lives in exile in Paris, and its founder, Ayatollah Ruhollah Khomeini. The film was widely considered a warning to Ahmadinejad that he should be more mindful of the wishes of Iran's supreme leader, Ayatollah Ali Khamenei.
Some say it makes little difference what Ahmadinejad does if he is not on the ballot. "The idea that a sitting president can pass on his popularity or charisma is not at all clear-cut," said Mohammad Marandi, a Tehran University professor and political commentator.
Washington Post