Bassil promises 7/24 electricity by 2015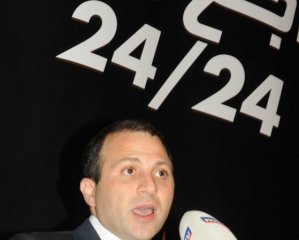 Energy Minister Jebran Bassil praised the cabinet for approving the offer of the Greek construction group J&P-Avax and the U.S. industrial giant General Electric for constructing the the Deir Ammar power plant in north Lebanon.
"We will start producing 841 megawatts instead of 750," Bassil said during a press conference on Wednesday.
Bassil had expressed optimism earlier in comments published in As Safir .
"The approval of the tender is an important step on the road to resolving the electricity crisis [in Lebanon],"he told the daily
He reiterated that he is "committed to provide the Lebanese with 24 hours electricity in 2015."
The cabinet approved on Tuesday the results of a second tender over the rehabilitation of Deir Ammar after the first tender was canceled over disputes with Spanish-Lebanese consortium, Abener-Butec that won it last October.
Competition this time  was limited to two companies: China's Sepco, and Greece's J&P-Avax. The Chinese company objected to the tender and asked for a number of amendments. When rebutted, it withdrew and decided not to send a representative to attend the opening of bids. Some are already contesting the legality of the bidding process since only one company attended the opening of bids, according to local reports
Lebanon has long suffered from electricity blackouts because of shortages at its power plants whose maximum capacity is less than 1,500 megawatts but the country's actual need exceeds 2,300 megawatts.
One key problem in Lebanon is maintenance . The power plants that produced 2800 MW back in 1998 produce 1300 MW today.
Abener-Butec
Abener-Butec, the Spanish-Lebanese energy consortium, whose $662 million provisional contract to rebuild the Deir Ammar power plant was canceled by Cabinet last December, denied reports that it officially submitted a lawsuit against the Lebanese government to the World Bank's international investment mediation panel last week.
Myrna Zakharia, Butec's PR and communications adviser, told The Daily Star that the company had not yet received a final verdict from the Shura Council regarding their compensation claim and said they were not seeking international mediation – yet.
"We are not planning to file with the International Center for Settlement of Investment Disputes[ICSID] because our case is not finished at the [Shura Council]," she said. "We hope they will study it further and show that stopping the tender that we already won is illegal. It's not about how much we lost studying the procedure for Deir Ammar Phase Two," Zakharia said. "We're not asking to be reimbursed as far as cash is concerned. We're talking about respecting the law."