MP Houri accuses Hezbollah of trying to delay elections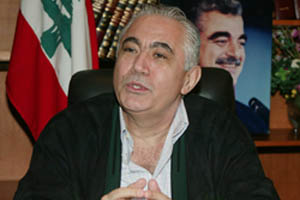 Future bloc MP Ammar Houri accused Hezbollah of trying to postpone the parliamentary elections in an effort to keep the present cabinet until the conflict in neighboring Syria ends .
" Hezbollah does not want to hold the elections. Wants to keep the current cabinet in power in order to wait until the Syrian [conflict concludes," Houri told Voice of Lebanon radio on Sunday.
Houri's comments follows talks on the possibility of delaying the parliamentary elections after the country's political parties failed to reach a consensus on a new electoral draft for the 2013 elections that would replace the 1960 law which is currently on the books.
In February, Lebanon's joint parliamentary commissions approved the Orthodox law that calls for proportional representation and voting along sectarian lines. The law is supported by the country's major Christian parties and top March 8 parties but is rejected by the Future Movement and Progressive Socialist Party as well as PM Nagib Mikati and president Michel Suleiman.
The Future Movement and the PSP have jointly been developing a a hybrid electoral draft law that would serve as an alternative to the 1960 law. PSP leader MP Walid Jumblatt will present the draft to Speaker Nabih Berri ,who in turn, will present it to his ally Hezbollah, according to Houri. The hybrid draft is based on majoritarian voting system in 26 electoral districts and proportional representation voting system in 9 other constituencies, according to a report by Now.
Decree
President Suleiman and Prime Minister Mikati signed a decree last Monday calling for elections to be held in June based on the 1960 law if no consensus is reached on a new law.
The PM had said in a televised interview last week that the cabinet did not study the Orthodox law and would not discuss it, adding that "it will not be adopted because it is unconstitutional."
Suleiman also has said he would challenge the Orthodox plan before the Constitutional Council if it is approved by parliament, while Mikati stressed that the proposal will not pass, revealing that he has "ways to block it."
The cabinet approval in September 2012 a draft law based on proportionality and 13 electoral districts, but speaker Nabih Berri pronounced it in Early March as "dead" and "orphan" and said that even PM Mikati is not defending it anymore.
The winner take all 1960 electoral law which calls for 26 electoral districts is favored by MP Walid Jumblatt and the Future Movement whic is headed by former PM Saad Hariri.
Hariri and other March 14 leaders are opposed to proportional representation as long as Hezbollah remains armed.
An Nahar quoted last Monday parliamentary sources as saying that March 19 is the deadline to propose a new electoral draft-law or else other options will be on the table, including the technical postponement of the polls.