Siniora slams Lebanon FM over his behavior at Arab League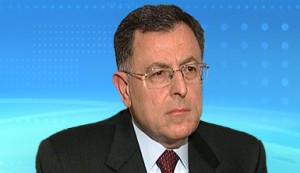 Former Lebanese prime minister and current leader of the Future Movement's parliamentary bloc condemned on Friday Lebanon's Foreign Minister Adnan Mansour's call on Arab foreign ministers to allow the Syrian government to retake its seat at the Arab League.
"The foreign minister's behavior puts at stake the respect for the Lebanese constitution and the power that the cabinet [weilds]," Siniora said in a press release.
"The constitution allows the premier to express the cabinet's policies, and stipulates that when the foreign minister represents the cabinet, he or she must completely abide by its policies or else he/she would be violating the constitution and surpassing the powers of the cabinet and its premier," Siniora added.
Siniora also said that "it is completely unacceptable for a foreign minister to express his own views during an…international forum, because he is supposed to represent the views and policies of the cabinet."
Arab League ( AL) ministers debated last Wednesday whether to award Syria's vacant seat in the regional bloc to the opposition Syrian National Coalition, diplomats said. They said ministers meeting in Cairo were divided on whether to let the opponents of President Bashar al-Assad take over Syria's seat, previously held by the Damascus government.
Damascus was suspended from membership of the Cairo-based League in November 2011, eight months into what began as a peaceful popular uprising against President Bashar al-Assad.
But Mansour objected the move and told the Arab League ministerial meeting: "I call for Syria's membership of the Arab League to be lifted," adding "Communication with Syria … is essential for a political solution."
"We have held meetings over two years and taken decision after decision thinking that with them we will be providing Syria with security and stability by removing the regime and replacing it with another – while Syria sank into blood and destruction,"added Mansour.
Qatar, which has led efforts at the League against Damascus, blamed Assad for nearly two years of bloodshed in Syria in which an estimated 70,000 people have been killed.
"The person who brought a sea of blood is Bashar because he did not commit to the Arab decisions and did not cooperate with us," Qatari Prime Minister Sheikh Hamad bin Jassim bin Jabr al-Thani told the meeting.
Mansour was accused on Wednesday by former PM Saad Hariri of acting on behalf of the Syrian regime when he called for lifting Syria's suspension from the Arab League .
"What kind of a dissociation policy is this and who authorized him to speak on behalf of the Syrian regime" , Hariri was quoted as saying " .
He asked: "Is he the Foreign minister of Lebanon or Syria ?"
Lebanese Prime Minister Najib Mikati's government is dominated by Hezbollah which has been supporting the Syrian regime in its crackdown against the uprising . Mikati according to observers cannot fire Mansour for disobedience because he is a member of the Amal party which is headed by Speaker Nabih Berri a key ally of Hezbollah.
Mikati, along with president Michel Suleiman have sought to follow a policy of "dissociation" from the conflict in Lebanon's dominant neighbor, but they are powerless since the Iranian backed Hezbollah militant group calls all the shots now in Lebanon , according to observers
One million refugees have fled Syria, piling pressure on its neighbors the United Nations refugee agency said on Wednesday. Lebanon, which is hosting the largest number of Syrian refugees despite being the smallest country in the region is struggling to support them.
On Thursday Mansour commented on the criticism against his statements and said that he was " doing what is best" for Lebanon and all its people.
Lebanon is divided on the Syrian issue. Hezbollah's parliamentary bloc leader MP Mohammed Raad defended on Thursday the remarks made by Minister Mansour on Syria during the Arab League ministerial meeting in Cairo , saying that they "accurately reflect the Lebanese government's policy of disassociation with regards to Syria".