MP Aoun slams Lebanon president , PM over election decree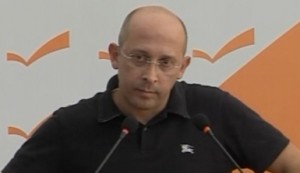 Change and Reform bloc MP Alain Aoun slammed President Michel Suleiman and PM Nagib Mikati for signing the decree that calls for holding the parliamentary elections on June 9, 2013 according to the current 1960 law if no consensus is reached on another law .
Aoun described the decree as "unconstitutional."
"All Christian parties are against this law" , he added
Earlier on Monday he accused the president and prime minister of favoring other religious sects over the Christians.
"We were hoping that Suleiman and Mikati would [take into account] the Christians… as much as they have other sects when they refused the Orthodox law," National News Agency quoted Aoun as saying in a statement released on Monday.
Aoun also warned warned against a deal between the president , the prime minister and Speaker Nabih Berri to secretly pass the 1960 law."
Berri has not voiced any objection to the Orthodox law which was approved in the joint commissions' meeting in February. This proposal, which calls for voting along sectarian lines, received fierce objection from the country's president and opposition parties, notably the Future Movement and the PSP.
However, other parties from the opposition March 14 coalition, the Lebanese Forces and Phalange Party, endorsed this law along with the FPM and the Marada Movement.
While the Orthodox gathering proposed electoral law calls for one electoral district and proportional representation, the 1960 calls for 26 electoral districts and winner take take all .