Iraq shut border crossing after Syrian rebels seized it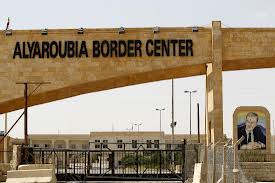 Iraq shut a border crossing with Syria on Sunday after rebels battling to overthrow Syrian President Bashar al-Assad seized the other side of the frontier post from his army, Iraqi military sources said.
The Iraqi army fired warning shots into the air late on Friday as Syrian insurgents fought government forces in the Syrian town of Yaarabiya and eventually seized the border post.
The fighting so close to Iraq illustrates how Syria's near-two-year conflict could spill over its borders, dragging in neighboring countries and further destabilizing the region.
"Iraqi authorities were ordered to shut off Rabia border crossing until further notice because of the Syrian government's lack of control over the other side of the post," police said.
Syria's insurgents are predominantly Sunni Muslim and are supported by mainly Sunni regional powers such as Turkey and Gulf Arab countries, while Assad belongs to the minority Alawite sect and is backed by Shi'ite Iran.
The conflict has put pressure on the already precarious sectarian and ethnic balance in Iraq. Iraqi Prime Minister Nuri al-Maliki, a Shi'ite Muslim, says his government has a policy of non-interference in Syria, even though his interests are aligned with those of Iran.
Military sources said blast walls now blocked off the border crossing and employees had been evacuated, though both sides of the crossing were calm and there was no sign of Syrian troops or the rebel Free Syrian Army (FSA) forces across the border.
More than 20 Syrian soldiers who fled the fighting into Iraq have been handed over to military intelligence and sent to Baghdad, a military official said.