Geagea: No real state if Hezbollah controls decision making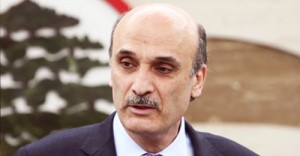 Lebanese Forces leader Samir Geagea told al-Liwaa newspaper in remarks to be published on Monday that we cannot have a real state state in lebanon as long as Hezbollah controls the strategic decisions in the country.
"A real state in Lebanon cannot be built as long as Hezbollah controls the country's strategic decision-making power."
He also criticized the party for acknowledging that it is taking part in the fighting in Syria.
He said: "No one can ignore Iran's role in Syria and the party should have stressed the need to maintain neutrality or support the people's revolt, but it unfortunately chose to take the opposite route." Geagea said.
Hezbollah's position has sparked the outrage of the Syrian people, which may drag Lebanon towards the unknown, warned the LF leader.
Electoral law
Geagea acknowledged that differences reamina within the March 14 camp over the parliamentary electoral law issue , but added they are being resolved.
He said: "We supported the Orthodox Gathering proposal at the electoral subcommittee for the sake of reaching an agreement over an electoral law."
An agreement over a new law can be reached in the upcoming days if political powers continue the serious efforts they have shown in the past few days.
Geagea warned over delaying the elections, set for June 9, calling it "fatal for our democratic system."
He added : "Postponing the elections for a month or two for technical reasons aimed at allowing the Interior Ministry to take the necessary preparations is the only acceptable excuse," .
The main rival Christian parties agreed to adopt the so-called Orthodox Gathering proposal which divides Lebanon into a single district and allows each sect to vote for its own MPs under a proportional representation system.
But the draft law has been rejected by the Future Movement bloc, the centrist National Struggle Front of MP Walid Jumblat, and the March 14 opposition's Christian independent MPs. It has also been criticized by President Michel Suleiman and Prime Minister Najib Mikati.