Russian made Scud missile fired in Syria lands in Iraq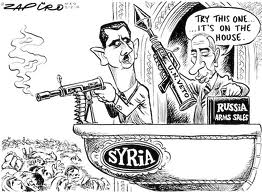 A Scud missile fired from Syria landed near a village in Iraq's Nineveh province on Friday, causing no damage but terrifying its inhabitants who fled, the mayor said, identifying the rocket as Russian-made.
"A Russian-made Scud landed near the village of Yoush Tapa, 3 km from the Iraqi-Syrian border between Telafar and Baaj," said Abdul Aal Abbas, the mayor of Telafar.
"There were no casualities or damage, but it created fear among the Turkuman population of that village and they fled their houses".
Nineveh governorate spokesman Qahtan Sami said security forces had also identified the rocket as Russian made.
Syria's 23-month-old conflict, which has killed more than 70,000 people and destroyed many of the country's cities, has repeatedly confounded international efforts to bring the parties together to end the bloodshed. Russia, a close ally of Assad and its main arms supplier has vetoed all the UN Security council resolutions so far to end the conflict .
The forces of Syrian president Bashar al Assad have been using heavier weapons, including ballistic missiles to pound rebel-held territory specially in northern Syrian