New evidence points to Iran's role in Hassan's murder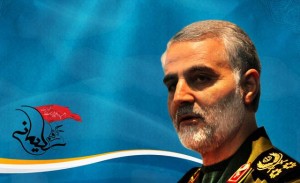 According to a new finding,  a prominent Iranian security chief was present in Lebanon during  the assassination of Lebanon Internal Security intelligence chief Wissam al Hassan last year, al-Joumhouria newspaper reported on Friday. According to the newspaper, Brigadier "Hindawi," one of Iran's elite Quds Force who is close to the commander of the Force General Qassem Suleimani, was in Lebanon when the assassination occurred.
Hassan was killed in a massive car bomb in Beirut's Ashrafiyeh district on October 19.
He was close to former Prime Minister Saad Hariri and hostile to the regime in Syria. He had been tipped to take over as ISF head at the end of 2012.
Informed sources told the daily that "Hindawi" is currently carrying out "security missions" in Iraq, Syria and Lebanon.
The report noted that "Hindawi" was tasked to participate in battles in the neighboring country Syria in support of regime troops to suppress the popular revolt.
Lebanon has been witnessing for several months a wave of assassinations starting with the attempted assassination of Lebanese Forces leader Samir Geagea last April, the attempted assassination of MP Boutros Harb, the assassination of Lebanon Internal Security intelligence  chief and several threats of assassinations against several figures including March 14 MP Marwan Hamadeh and Mufti Shaar of Tripoli.
Hezbollah has been accused of being behind some of these threats. The person behind the attempted assassination of MP Harb , Mahmoud al-Hayek has been identified as a Hezbollah member and an arrest warrant has been issued against him but Hezbollah refuses to hand him over to the judicial authorities just like they refused to hand over the four killers of former PM Hariri.
Naharnet/ agencies