Benedict XVI to keep his name and become Pope Emeritus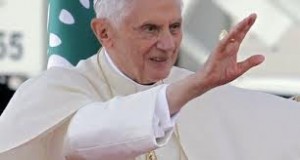 Pope Benedict XVI will keep the name Benedict XVI and become the Roman pontiff emeritus or pope emeritus, theVatican announced on Tuesday, putting an end to days of speculation on how the pope will be addressed once he ceases to be the leader of the world's 1.1 billion Roman Catholics on Thursday.
Benedict, the first pope to resign voluntarily in six centuries, will dress in a simple white cassock, forgoing the mozzetta, the elbow-length cape worn by some Catholic clergymen, the Vatican spokesman, the Rev. Federico Lombardi, told reporters at a news briefing.
And he will no longer wear the red shoes typically worn by popes, symbolizing the blood of the martyrs, Father Lombardi said, opting instead for a more quotidian brown. "Mexicans will be happy to know that the pope very much appreciated the shoes" he received as a gift last year in León, Mexico, he added. "He finds them very comfortable." It was after the grueling trip in March 2012 that the pope began to seriously consider resigning, the Vatican said after the pope announced his resignation on Feb. 11.
Father Lombardi said the pope had decided on his couture in consultation with other Vatican officials. Benedict will also stop using the so-called fisherman's ring to seal documents. It will be destroyed by the cardinal camerlengo, the acting head of state of Vatican City during the "sede vacante," the canon law term used when the papacy is vacant.
As his staff finishes packing up his personal belongings, the pope will hold his scheduled weekly audience Wednesday — to which 50,000 tickets have already been requested — and then meet with several dignitaries, including the presidents of Slovakia and of the German region of Bavaria, who have traveled to Rome to pay their respects. The pope grew up in Bavaria.
Thursday will be a day of goodbyes, to the cardinals already present in Rome, and later to some members of the Curia. In the afternoon, he will depart for Castel Gandolfo, the summer residence of popes, where he will remain until restorations are complete on the convent inside the Vatican where he will live out his days.
Father Lombardi said the College of Cardinals would probably begin meeting next Monday to discuss various issues, like the problems facing the church and the qualities required of its next leader, and determine the date of the start of the conclave to choose Benedict's successor.
NY Times