Hezbollah fighters dying in Syria will go to hell, Tufaili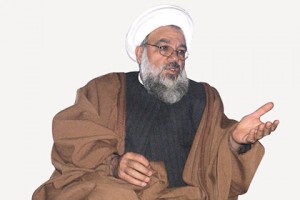 Former Hezbollah Secretary General Sheikh Sobhi Tufaili said the "Shiites in Syria do not need Hezbollah to defend them , besides this could cause them problems and Sayyidah Zaynab does not need to be protected because the Sunni community loves her."
He is referring to the shrine of Sayyidah Zaynab Bin Ali in Damascus, and Hezbollah claim that it is defending the Lebanese Shiites in Syria.
In an interview with MTV he said "Hezbollah should not be defending the criminal regime that kills its s own people and that has never fired a shot in defense of the Palestinians ", stressing that "Hezbollah is responsible for every Shiite killed in Syria " adding " those Hezbollah fighters who are killing children and terrorizing people and destroying houses in Syria " will go to hell, and can not be considered as martyrs. "
Hezbollah considers every one that is kiled in Syria is a martyr .
The former Hezbollah chief added : "the biggest beneficiary of the conflict in Syria is the Israeli enemy because it wants to defeat both teams ( Syria and Hezbollah) . Why are we sending our finest youth to die in defense of a criminal regime instead of sending them to resist against Israel.
He continued: "We were afraid that the conflict in Syria will spill over to Lebanon but instead we are going there . Prime Minister Najib Mikati keeps talking about dissociation policy but neither his cabinet members nor Hezbollah are implementing his policy and hezbollah sent its Ayoub drone to Israel to cover up for what it is doing in Syria".
"Hezbollah is fighting inside Syria in support of the Syrian regime on orders from the Islamic Republic of Iran," Progressive Socialist Party leader MP Jumblatt said in a statement on Sunday.