Lebanon PM: Cabinet impartial on regional affairs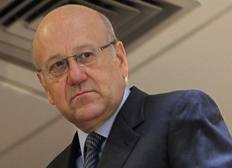 Lebanon Prime Minister Najib Mikati stressed on Sunday that the government is adamant about respecting the disassociation policy on all issues concerning the region.
"The government, as per the National Dialogue Committee's session and the Baabda Declaration, will remain impartial on all regional affairs," Mikati was quoted as saying following his meeting with Speaker Nabih Berri.
Mikati also reiterated that Lebanon has "excellent relations with all Gulf countries."
The Baabda Declaration stipulates keeping Lebanon away from the policy of axes and regional and international struggles.
Mikati's cabinet is dominated by the Hezbollah militant group
Mikati's comment comes after the following developments which prove that lebanon is not abiding by its disassociation policy.
-A Hezbollah official told told AFP on Sunday that two Lebanese Shiites were killed and 14 others wounded in the battles inside Syria . "Two Lebanese Shiites were killed in Syria and 14 others wounded in clashes with rebels, " the official told AFP on condition of anonymity, adding that they were acting in "self-defense." One of the wounded died later.
The Syrian opposition accused Hezbollah earlier today of "military intervention" in Syria, calling it a danger to regional peace and security.
2- Lebanon's Future Movement MP Khaled Daher accused the Mikati government of supplying explosives to the regime of Syrian President Bashar al-Assad with the knowledge of the Lebanese Armed Forces. "About two days ago, two trucks loaded with dozens of tons of explosives crossed the Masnaa Lebanese-Syrian border crossing", National News Agency quoted Daher as saying in a press conference on Saturday.
THe MP demanded the immediate resignation of Prime Minister Mikati and accused him of covering up and described his alleged dissociation policy as a joke.
3- Bahrain on Friday, summoned the Lebanese charge d'affaires at the Lebanese Embassy Ibrahim Assaf over remarks made by Free Patriotic Movement leader MP Michel Aoun earlier this week, which Bahrain considered "irresponsible meddling in its internal affairs."
Aoun had told al-Alam last Wednesday that the demands of the protesters in Bahrain are "fair and justified."
He criticized the Arab League and international community for failing to support the protests in Bahrain.
Aoun added: "It's unfortunate that a peaceful revolution, which has been oppressed and going on for three years, has not been recognized enough by the world."
Aoun is closely associated with Hezbollah militant group which has been supporting the uprising against the monarchy in Bahrain.
Hezbollah chief Sayyed Hassan Nasrallah saluted the Bahraini revolution on Saturday during a televised speech
Bahrain's Information Minister Samira Rajab accused Hezbollah on Saturday, of "extremism" and "terrorism," describing it as a "terrorist militia."
Ties between Lebanon and Bahrain reached an all-time low in 2011 when Nasrallah slammed the crackdown on the protesters.
His remarks prompted the Bahraini authorities to suspend the flights of Gulf Air and Bahraini Air between Manama and Beirut for several months.