6 workers kidnapped in Nigeria including 2 Lebanese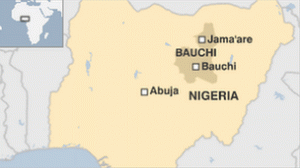 At least six construction workers including two Lebanese , have been seized by gunmen who attacked a camp in northern Nigeria, officials say.
The Lebanese were identified as Imad al-Andari and Carlos Abou Aziz.
No-one has admitted the abductions but the Islamist militant group, Boko Haram, has staged a series of attacks in northern Nigeria.
A security guard was reportedly killed as the attackers targeted the workers' camp at Jama'are in Bauchi state.
An Italian foreign ministry spokesman told Reuters news agency that an Italian man was among those taken from the site, run by Lebanese-owned firm Setraco.
A UK foreign office spokesman said it was investigating reports of a Briton being kidnapped.
Local government official Adamu Aliyu said among those abducted were a Briton, an Italian, a Greek at least two Lebanese workers, and included two women, Reuters reported.
Bauchi police commissioner Mohammed Ladan told AFP that the attackers had initially targeted a prison and police station in the rural town of Jamaare, some 125 miles (200km) north of the state capital, Bauchi.
They then moved on to a camp belonging to Setraco, killing a guard and seizing the workers. Setraco is currently expanding a major road in the area.
The state capital has itself been attacked several times by Boko Haram, which wants to impose Sharia across Nigeria.
Lebanon's Foreign Minister Adnan Mansour was informed of the incident by the Lebanese embassy in Nigeria.
The National News Agency has reported that Mansour gave the Lebanese embassy in Nigeria instructions to call the appropriate Nigerian officials in an effort to help free the abductees and keep him up to date on developments related to the matter.
BBC/Now