Abou Faour: Orthodox law is a scarecrow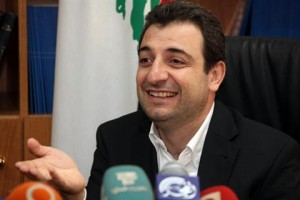 Lebanon Minister of Social Affairs Wael Abu Faour said that " the proposed Orthodox electoral law is just a scarecrow aimed at passing other other laws that could improve the electoral position of some parties."
He pointed out that the right approach to solve the electoral law issue is for everyone to realize that the elections should be held in time and stop this jockeying over the electoral law issue.
The parliamentary subcommittee charged with deciding on a new electoral law to replace the existing so called 1960 law failed again on Saturday to reach consensus over a hybrid electoral draft law that was presented by Speaker Nabih Berri's Liberation and Development parliamentary bloc. .
The chairman of the subcommittee MP Robert Ghanem made the announcement after the meeting
"We will hand over the meetings' report to Speaker Nabih Berri," he told reporters , adding that the latter will then refer it to the joint parliamentary committee for further discussion.
Berri had called the joint parliamentary committees to convene next week in order to address parliamentary electoral draft laws.
The meetings are set to take place on February 18, 19, 20, and 21.
The meeting tackled modifications to the draft-law proposed by Lebanese Forces MP George Adwan on Friday.
Hezbollah MP Ali Fayyad said ahead of the subcommittee meeting that the LF suggestion "lacked political balance."
The draft law combines the winner-takes-all and proportional representation systems and ensures that 56 Christian MPs are elected through Christian votes.
The Orthodox law calls for each sect to elect its own MPs under a proportional representation system based on a one electoral district..
The draft law was rejected by President Michel Suleiman, Premier Najib Mikati, the Future Movement, Progressive Socialist Party leader MP Walid Jumblatt, and independent March 14 MPs.
It was criticized for fueling sectarian divisions.