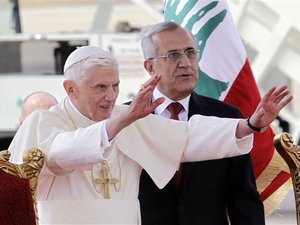 President Michel Suleiman said on Thursday that the Lebanese will be among the people who will most miss Pope Benedict XVI and saluted his "bold and wise decision."
Suleiman added that hopes Lebanon "will remain in the heart of Pope Benedict", wishing him good health and a long life.
Maronite Patriarch Beshara Rai also praised Wednesday Pope Benedict XVI for his love for Lebanon and described the pontiff's resignation as a "positive shock in the hearts."
He Described him as an "ideal leader," adding: "The pope is setting a great example about faith and modesty."
Rai thanked the pope for his recent visit to Lebanon in September 2012; for appointing him a cardinal in the Catholic Church last November and for tasking Lebanon's youth to present their aspirations for the stages of the Way of the Cross that would be celebrated by the pope in Rome on March 29, 2013.
Pope Benedict's resignation marks the first since Pope Gregory XII in 1415.
Rai will participate in the election of a new pontiff, marking the first time a Maronite patriarch has been eligible to vote at a conclave.
Photo: Pope Benedict XVI stands next to Lebanese President Michel Sleiman as he waves to the crowd at Rafik Hariri international airport, in Beirut, Lebanon, Friday, Sept. 14, 2012