Libya Crackdown on Lebanese with Iranian visas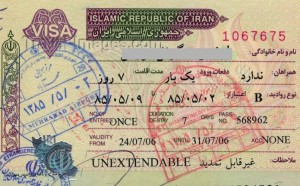 Reports that Libya has banned foreigners with Iranian visas in their passports from entering the country appear to be only partly true. An immigration official at Tripoli International Airport said that the ban applies solely to Lebanese passport holders with Iranian visas. However, other immigration sources have said that the ban includes Syrians with Iranian visas and that it is a security measure, Libya Herald reported .
This follows reports claiming that the Shiites were being forced to convert in Libya. However, Iraqis, many of whom are Shiites and Iranians are not being affected by the ban, Libya Herald reported.
This also follows reports by Solidarity Press that Foreign Ministry sources had said that all foreigners with Iranian visas in their passports had been banned.
The Daily Star newspaper, also claimed that the ban had been extended to cover all Lebanese citizens, regardless of having an Iranian visa or not.
The Daily Star quoted a Lebanese businessman operating in Libya regularly since the revolution saying he had been denied a visa for the first time, adding that he knew of similar cases.
The Daily Star also linked the ban to the decision to cancel the "First Libyan-Lebanese Investment Forum," scheduled to take place in Tripoli this month. It quoted a Libyan travel agent in Lebanon saying that this was the reason for the cancellation. However, it also reported that a spokesperson for the Investment Development Authority of Lebanon, which was supporting the forum, had denied the allegation saying that it had been informed by the Libyan committee organising the event that it was being postponed indefinitely.
The "First Libyan- Lebanese Investment Forum", with the participation and support of the ministry of economy in Libya, was to take place on the 10th and 11th of February 2013, at Radisson Blu Hotel in Tripoli, Libya, jointly organized by the General Authority for Investment Promotion and Privatization in Libya, The Investment Development Authority of Lebanon – IDAL and Al-Iktissad Wal-Aamal Group, in collaboration with the Federation of Chambers of Commerce in Lebanon and the Association of Lebanese Industrialists, according to Al-Iktissad Wal-Aamal which organises such events.
The Lebanese delegation to the forum was supposed to be headed by Nicolas Nahas, Minister of Economy.
The Daily Star reported that the Lebanese Foreign Ministry denied that the Lebanese passport holders were not being given Libyan visas.
According to Libya Herald the Lebanese embassy in Tripoli did not return the phone calls despite repeated requests for comments on the issue.
According to Ya Libnan consultants, this is not the first time that Libya singles out the Lebanese for visa denial. Gaddafi's Libya denied visas to Lebanese following the disappearance of Shiite Imam Moussa al Sadr, an Iranian-Lebanese philosopher and religious leader who disappeared in August 1978 in Tripoli, Libya.