Fuel exports to Syria could spell trouble for Lebanon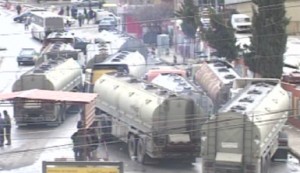 Several fully loaded Syrian tank trucks have reportedly headed to Damascus on Tuesday, but two trucks carrying Syrian license plates came under fire in the norther city of Tripoli, prompting the army to deploy in the area, LBCI reported
According to Voice of Lebanon radio (100.5) five tank trucks arrived earlier in al-Madfoun crossing in northern Lebanon, while another 10 tank trucks were on their way to al-Masnaa border crossing in the east.
Later on Tuesday, resident in al-Beddawi in Northern Lebanon stopped several tank trucks carrying diesel from Lebanon to Syria, said National News Agency.
The army has since deployed in the Bekaa valley to protect the Syrian tank trucks travelling to Syria via Dahr el Baider, reported LBCI television.
Close to 1,000 tons of fuel are flowing each day from Lebanon to Syria as local traders worry about Lebanon becoming entangled by international sanctions against its war-torn neighbor, reported the Daily Star
Dania Nakad, general manager of Wardieh, a major fuel importer, believes that fuel exports to Syria are illegal under sanctions imposed by the United States and Europe.
Despite the very high margins involved, Nakad said her company was not taking part in the trade.
"We deal with European and American refineries and we cannot risk any exposure. The Lebanese government should act to end this situation to protect Lebanon from potential consequences of the trade," she said.
"There is a very serious move by international stakeholders to tackle this issue and Lebanon cannot afford not to abide by international sanctions," Nakad added.
Future Movement MP Ahmed Fatfat called this a scandal during an interview with VOL and said "it proves that the current cabinet hasn't committed to its so called disassociating policy over the developments in Syria." Fatfat noted that the government is supporting the Assad regime by carrying out such a move given that military vehicles used to clamp down on rebels are using the fuel.
The Daily Star quoted an industry source as saying that the real concern was the sizable financial transactions resulting from the trade entering the banking system, which could expose Lebanese banks to European and U.S. sanctions, even though sanctions do not apply to fuel exports.
The shipments to Syria are being paid for in cash by Lebanese companies that initially purchase fuel and then forward it to another company that ships the diesel to Syria.
"The source of the cash would be very difficult to trace," the source said, adding that most international suppliers have ended relations with Syria over the very high compliance costs on any financial transactions involving Syrian banks or officials.
The current lebanese cabinet is dominated by the Iranian and Syrian backed Hezbollah militant group, which is backing the Syrian regime in its crackdown against the Syrian uprising. Iran and Hezbollah are building a network of militias inside Syria to preserve and protect their interests in the event that President Bashar al-Assad's government falls or is forced to retreat from Damascus, according to U.S. and Middle Eastern officials