Sharp division within US administration over Syria policy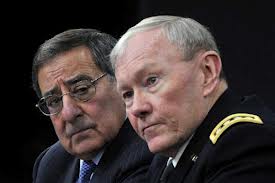 The Pentagon's top leaders said Thursday that they favored supplying weapons to rebels locked in a grinding civil war with the Syrian government, a position that put them directly at odds with the White House.
Defense Secretary Leon E. Panetta and Gen. Martin Dempsey, chairman of the Joint Chiefs of Staff, made only a brief mention of their views on Syria while testifying at a Senate hearing on the attacks against the U.S. diplomatic outpost in Benghazi, Libya, last year.
But their surprise remarks underscored sharp divisions within the Obama administration over its policy toward Syria, where an estimated 60,000 people have died since an uprising against President Bashar al-Assad began about two years ago. The statements also marked a rare instance in which the Pentagon's leaders publicly voiced disagreement with the White House.
At the tail end of a line of questioning about Benghazi, Sen. John McCain (R-Ariz.) asked Panetta and Dempsey whether they had supported a plan "that we provide weapons to the resistance in Syria." The plan, he said, was floated in the summer by then-CIA Director David H. Petraeus and endorsed by another heavyweight in the administration at the time, Secretary of State Hillary Rodham Clinton.
"We do," Panetta replied.
"You did support that?" McCain asked again.
"We did," added Dempsey, who was sitting next to Panetta. Neither elaborated on their positions.
McCain appeared taken aback by the answers. A few hours later, he issued a statement saying he was "very pleased" to learn of the Pentagon's stance but criticized President Obama for blocking arms shipments to Syrian rebels.
"What this means is that the president overruled the senior leaders of his own national security team," said McCain, who has long advocated for U.S. intervention in Syria.
The White House declined to comment on the rift. At the State Department, where Secretary of State John F. Kerry has been in the job for only a week, spokeswoman Victoria Nuland also declined to "talk about internal policy deliberations of the government."
A U.S. defense official, however, confirmed that Panetta and Dempsey "supported looking into the idea last year" of directly arming Syrian rebels. The official, speaking on the condition of anonymity to discuss internal deliberations, said the two Pentagon leaders "understand the difficulties" of supplying weapons to the Syrian opposition and currently back Obama's policy of giving nonlethal aid.
Later in Thursday's hearing, in response to a follow-up question, Panetta and Dempsey confirmed that they had supported the CIA proposal in the summer to arm Syrian rebels. But Panetta added, "Obviously, there were a number of factors that were involved here that ultimately led to the president's decision to make it nonlethal. And I supported his decision in the end."
Concerns about extremists
Obama has consistently opposed arming the Syrian resistance, saying that U.S. involvement could backfire.
He and other administration officials have said that they are particularly concerned by the emergence of rebel groups affiliated with al-Qaeda, which see the conflict with Assad as a holy war and are filling their ranks with foreign fighters.
"The longer this goes on, the more there is a magnetic effect of the most extreme groups to come in and join the fight," national security adviser Thomas E. Donilon said Monday on the "Charlie Rose" show. "Dealing with those groups is going to be a real challenge."
There have been no overt signs recently that Obama might change his mind and adopt a more aggressive policy on Syria. But pressure to do something remains high as the death toll in Syria steadily rises and concerns about Assad's stockpile of chemical weapons mounts.
The U.S. government has provided $355 million in humanitarian aid and supplies to Syrian refugees and rebels. Although the the Obama administration has helped to vet Syrian opposition figures and provided intelligence to countries such as Qatar and Saudi Arabia — which are supplying weapons to anti-Assad fighters — it has not given weaponry directly.
Benghazi testimony
During the rest of their testimony, Panetta and Dempsey defended the Pentagon's response to the September attack in Benghazi, saying that U.S. forces were too far away to respond effectively.
Panetta told the Armed Services Committee that it would have taken nine to 12 hours for warplanes or armed drones to reach Libya, too late to mount a counterattack on gunmen who killed four Americans, including Ambassador J. Christopher Stevens.
Even if fighter jets or gunships could have scrambled more quickly to North Africa from bases in Europe, Panetta cast doubt on whether they could have intervened. He said the military lacked good information to sort out the chaotic events on the ground.
"You can't just willy-nilly send F-16s there and blow the hell out of a place without knowing what's taking place," he said. "You can't send AC-130s there and blow the hell out of a target without knowing what's taking place. You've got to be able to have good information."
But Republican lawmakers criticized Panetta and Dempsey for not having stronger contingency plans to respond more quickly to the assault. They pointed out that Islamist militants had carried out several attacks against foreign consulates and diplomats in Benghazi in the preceding weeks and that it was well known that the temporary U.S. diplomatic mission there was vulnerable.
Sen. Saxby Chambliss (R-Ga.) chided Dempsey for "a very weak response and reaction to this incident," adding: "You knew what was happening in Benghazi. You failed to respond in a way that provided security to that particular United States mission complex."
In response, Dempsey said Benghazi was not the only place where American diplomats were confronting threats that day, the anniversary of the Sept. 11, 2001, attacks. He pointed out that embassies in Yemen, Tunisia, Egypt and Sudan were under assault by protesters or mobs. He also said that the State Department had not specifically asked the Pentagon to provide extra security in Benghazi.
Dempsey revealed that the U.S. military has designated "a handful of high-value individuals" in North Africa for their connections to al-Qaeda, making them potential targets for capture or death.
The target list does not include any suspects in the Benghazi attack "to this point," he added, "although we work with other agencies to try to build the intelligence case to do so."
Washington Post