Lebanon,Hezbollah on high alert, expect an israeli strike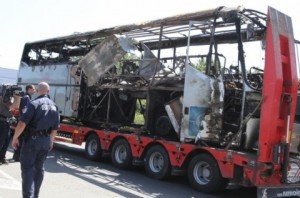 The Lebanese army and Hezbollah are reportedly are on high alert in southern Lebanon in response to Israeli Air Force activity in Lebanon's airspace after the announcement by Bulgaria that Hezbollah was behind the bus bombing.
The pan-Arab London-based daily al-Quds al-Arabi reported Friday that Lebanese officials fear that an Israeli strike, similar to Israel's alleged strike on Syrian targets last month, is imminent in light of multiple "mock raids."
According to the report, there is also suspicion among Hezbollah's ranks that Israel intends to kidnap one of the organization's senior members, The Times of Israel says.
Al-Quds al-Arabi has also noted that the suspicion is based on increased Israeli threats, and the blaming of the July bombing in Bulgaria on the Shiite organization.
Bulgarian Interior Minister Tsvetan Tsvetanov stated Tuesday that Bulgarian investigators had "a well-founded assumption" that the perpetrators of the deadly attack belonged to the military wing of Hezbollah.
novinite