EU pressured to blacklist Hezbollah after Bulgaria report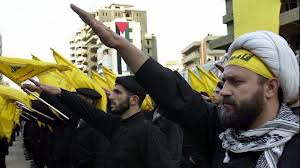 European Union leaders are under renewed pressure to list Hezbollah as a terrorist organization after Bulgaria released a report implicating the Lebanese militant group in the July 2012 bombing of a bus carrying Israeli tourists in the Bulgarian town of Burgas.
But while the reclassification might seem likely after such an incident, some EU members remain reluctant to formalize the terrorist designation.
Blacklisting Hezbollah would pave the way to blocking cash flow to the militant organization from member states and freezing European assets linked to the group, according to The Wall Street Journal. The US and Israel, both of whom already classify the group as a terrorist organization, have been pushing the EU to take the step for years.
Naim Qassem, Hezbollah's deputy leader, denied responsibility and blamed the Bulgarian report on an Israeli campaign "to intimidate people and countries against Hezbollah," the Wall Street Journal reports.
But the perception among some Israelis is that even this incident is unlikely to be enough to overcome EU resistance to blacklisting the group. In an analysis for The Jerusalem Post, diplomatic correspondent Herb Keinon writes:
Logically one would think that catching an organization red-handed in carrying out a terrorist act on foreign soil leading to the murder of six people, five Israelis and a Bulgarian, would be enough to qualify that group as a terrorist entity.
But when it comes to Hezbollah, the EU has a logic all its own. An example of this came last month when the EU-observer, an online newspaper devoted to EU politics, reported that the union's top counterterrorism official, Gilles de Kerchove, said responsibility for that blast will not necessarily qualify Hezbollah for the terror blacklist.
"There is no automatic listing just because you have been behind a terrorist attack," he said in a comment that forces a double-take.
A number of factors explain European leaders' reticence to take that step, Mr. Keinon writes. France might lose its leverage inside Lebanon, where Hezbollah is the leading government player. Hezbollah might be forced to leave the government, which would destabilize ever-fragile Lebanon during a volatile time for the whole region. And it could raise the chances of retaliation on European nationals.
The EU has several options other than blacklisting Hezbollah, the Wall Street Journal notes.
"There are also actions that can be taken through various channels including, for example, through Europol, Eurojust, judicial action, political and diplomatic measures, and so on," [said Maja Kocijancic, a spokeswoman for EU foreign policy chief Catherine Ashton]. Europol is the EU's law enforcement agency, and Eurojust is its judicial cooperation unit.
The EU could push member states to deliver more information to Europol about Hezbollah or individuals linked it. Europol could also be asked to broaden its investigation of the people identified in the Burgas attack to see what links they have to other criminal activities, including drug trafficking, organized crime or arms smuggling, said a person familiar with discussions.
The UK and the Netherlands already consider Hezbollah a terrorist organization, although the UK only blacklists the group's military wing.
Thanassis Cambanis, a journalist who has written a book on Hezbollah, writes in The Atlantic that the Burgas bombing bolsters speculation that Hezbollah is less concerned about styling itself as something other than a terrorist group – a strategy that, until now, has helped it stay on the right side of the law with the EU.
Hezbollah has argued since the mid-1990s that it should be treated as a liberation movement, accorded the status of a quasi-state. It has claimed to behave within the norms of nations, concentrating after 1994 on military targets in its fight with Israel and making a plausible claim to proportionality vis-à-vis Israel's use of force against Lebanese civilians.
One benefit of this approach for Hezbollah has been Europe's refusal to list it as a terrorist organization. Hezbollah remains the dominant player in Lebanon's government and the single-most powerful political and militia organization in Lebanon. While American diplomats by law can't even talk to Hezbollah members, most Europeans have maintained relations.
…if Hezbollah is going rogue, or returning to its rogue roots of the 1980s, it will hurt the group over the long run, as it loses the access it has won in the Middle East and in Europe, and squanders what credibility it earned beyond its immediate following. Hezbollah will remain a quasi-state, but a rogue one.
The Wall Street Journal writes that the issue is unlikely to be addressed at a previously scheduled EU meeting tomorrow, but that it will "almost certainly" be on the agenda at a meeting later this month.
CSM