Hezbollah dismisses Bulgaria accusation over bus bombing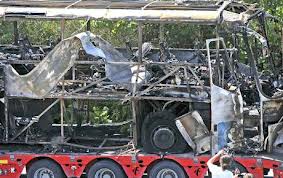 The Lebanese Islamist Hezbollah movement dismissed on Wednesday Bulgaria's accusation that it carried out a bomb attack which killed five Israeli tourists last year, saying Israel was waging a smear campaign against it.
Deputy Hezbollah leader Naim Qassem said Israel was directing "allegations and incitements and accusations against Hezbollah" because it had failed to defeat it militarily.
Bulgaria said on Tuesday the Iranian-backed Hezbollah carried out a bombing on a bus in the Black Sea city of Burgas that killed five Israeli tourists in July.
The conclusions of the investigation, citing a clear connection to an attack on European Union soil, might open the way for the EU to join the United States in branding Hezbollah a terrorist organization.
Qassem said Hezbollah, which fought an inconclusive 34-day war with Israel in 2006 and is now part of Lebanese Prime Minister Najib Mikati's government, would not change course or be deflected by the charges.
"Israel is leading an international campaign to intimidate people and countries against Hezbollah," he told religious students in southern Beirut.
"All these accusations against Hezbollah will have no effect, and do not change the facts," Qassem said. "We will not submit to these pressures and we will not change our priorities. Our compass will remain directed towards Israel."
Mikati has said his government was ready to cooperate with Bulgaria in investigating the attack.
Reuters