Jumblatt calls his meeting with Hariri friendly , transparent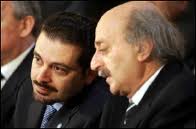 Progressive Socialist Party leader MP Walid Jumblatt described his meeting with the former PM and Future Movement leader MP Saad Hariri that addressed the electoral law issue and regional development as "friendly and transparent."
"We share the same view that the proposed Orthodox Gathering law should be rejected… but we didn't agree on dividing Lebanon into 50 electoral districts. However the meeting was friendly and transparent," Jumblatt told Future television on Saturday.
Jumblatt also backed Hariri's call for the establishment of a senate in Lebanon.
Hariri on Tuesday received Jumblatt at his residence in the French capital Paris during which the two leaders discussed the regional situation in all its aspects and the challenges Lebanon is facing, in addition to the various proposals on the electoral law and the stances of all parties.
In a TV interview with Marcel Ghanem Thursday evening which was broadcasted live from Paris on LBC's "Kalam Ennass" program , Hariri rejected the proposed Orthodox electoral law " because it divides the Christians and Muslims and this is a crime against Lebanon"
Hariri proposed a four-point political initiative aimed at preserving coexistence in Lebanon between The Christians and Muslims.
His proposal calls for:
1- Organizing the elections on time according to an electoral law that is based on smalle electoral districts
2- Establishing a senate that represents all sects as defined by the Taef Accord
3- Adopting administrative decentralization
4- Including the Baabda declaration in the preamble of the Constitution.
Jumblatt stressed that the elections must be held on time.
Jumblatt also stressed that the national dialogue sessions should be held after the elections, when different factions in Lebanon could express their concerns.