Peres asks Netanyahu to form new Israeli government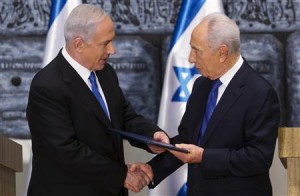 Israeli President Shimon Peres on Saturday formally asked incumbent Prime Minister Benjamin Netanyahu to form a new governing coalition following the January 22 general election.
Netanyahu will initially have 28 days to form a coalition. His rightist Likud-Beitenu party took a battering at the ballot box and won 31 seats, 11 fewer than it had going into the election, but it nevertheless emerged as the largest party.
Last week Peres consulted with representatives from the 12 parties elected to the 120-seat parliament, the Knesset, and factions that control 82 seats recommended that Netanyahu should be asked to form a coalition.
His administration is expected to be cobbled together from a new centrist party headed by former TV personality Yair Lapid, which with 19 seats, is the second-largest party, the 12-seat far-right Bayit Yehudi ("Jewish Home") faction and other centrist and religious parties.
Israeli coalition-building can be a laborious process and Netanyahu may require the full 28 days before announcing success. He can ask Peres for another 14 days to complete the task, if needed.
Reuters