Lebanon condemns Israeli attack on Syria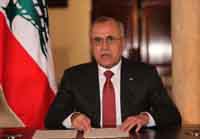 Lebanese President Michel Suleiman condemned on Thursday Israeli air strike against the Syrian military research center as "flagrant aggression" and accused Israel of exploiting the current uprising in Syria.
In a statement issued by his press office Suleiman said:
"Israel is exploiting the developments in Syria to carry out its aggressive policies, indifferent to all the humanitarian and international treaties,"
Several other Lebanese officials condemned the israeli strike
Former Lebanese PM and current Future bloc leader MP Fouad Siniora alos condemned the Israeli aggression, saying "we reject attacks by the Israeli enemy on Arab land."
Siniora, whose bloc has repeatedly voiced its support for the revolution against Syrian President Bashar al-Assad's regime, called the Israeli airstrike a "dangerous development." His comments came during a ceremony taking place in the city of Sidon on Thursday.
"Our position on Syrian developments are well-known. But yesterday, a dangerous course of action was taken by the Israeli airstrike against land positions in Syria. This is something we cannot accept," he said.
Foreign Minister Adnan Mansour strongly denounced the attack, describing it also as a "flagrant aggression."
"This aggression confirms one more time the true approach adopted by the terrorist country Israel since 1948 and the threats by (the Jewish state) on the Arab peace and security," Mansour said.
"This aggression requires us Arabs to take a firm stance and confront it with all the legal means," the FM added.
Shame on you
Syria's main opposition chief on Thursday condemned President Bashar al-Assad's regime for its failure to take action against the Israeli air strike.
"Shame on you, O regime of Bashar al-Assad, that the Israeli warplanes have come and your jets are only focused on destroying mosques and universities, and to kill civilians," Syrian National Coalition chief Moaz al-Khatib said.
"Your planes are watching and they do not stop the Israeli jets," he told Al-Jazeera television.