Jumblatt urges Syria's Druze to join uprising against Assad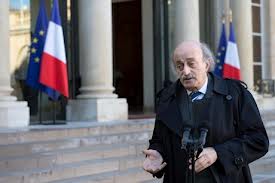 Progressive Socialist Party Leader MP Walid Jumblatt urged the Druze community in Syria to join the uprising against the regime of President Bashar al-Assad and warned against joining the National Defense Army , the newly formed local militias affiliated with the regime.
In his weekly article to be published in PSP's Al-Anbaa newspaper on Tuesday , jumblatt who has been a critic of Assad and a strong supporter of the Syrian rebels
wrote:
"We call once again on the Arab Druze to reaffirm their national and historical stance in confronting injustice and protecting the unity of Syria with all other liberals in their struggle", adding Any reckless steps such as joining the National Defense Army will pose a threat to the political and concrete existence of the Druze in all the Syrian regions."
The PSP leader also accused the regime of inciting a civil war in Syria by enhancing sectarian divisions in the country.
"The Syrian regime is setting once again an example of its ongoing attempts to provoke a civil war between Syrians by inciting neighboring areas and sects against each other," said Jumblatt.
On the other hand Jumblatt who is currently on an official visit in Paris stressed Monday the importance of protecting Lebanon from the repercussions of the crisis in Syria.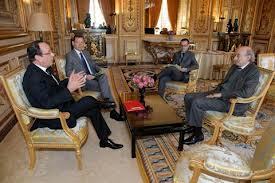 "I informed the French officials about the importance of Lebanon's stability, [National] Dialogue and the need to keep Lebanon safe from the repercussions of Syria's crisis," the PSP leader was quoted by LBC television channel as saying following his meeting with French President Francois Hollande, stressing that no party will emerge as a sole winner and dominate the country after the elections.
Lebanon's Cabinet has adopted a policy of dissociating itself from developments in Syria.
However, the country's political rivals remain divided over the uprising in Syria.
While the Iranian and syrian backed Hezbollah-led March 8 coalition strongly defends the regime of President Bashar Assad, the March 14-led opposition has continuously voiced support for the rebels.
Central News Agancy ( CNA ) has reported that in addition to Jumblatt a delegation of March 14 politicians had traveled to Paris, and it included MP Marwan Hamadeh and ex-lawmakers Fares Soaid, Samir Franjieh and Ghattas Khoury.
Former president and Phalange Party leader Amin Gemayel is alos in Paris and reportedly held a meeting with former Prime Minister Saad Hariri (who is also in Paris) during which the two men discussed the latest developments in the country and the proposed electoral law drafts.
CNA also revealed that a meeting might be held between Jumblatt and Hariri to discuss the upcoming parliamentary elections.