Lebanon speaker slams Charbel over electoral law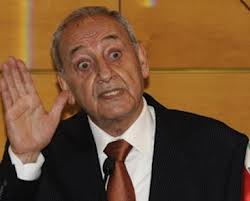 Speaker Nabih Berri slammed on Monday Lebanese Interior Minister Marwan Charbel without naming him over his statement to As Safir about basing the 2013 elections on the 1960 electoral law, by saying those who believe that they can hold the parliamentary elections based on the 1960 law are "ignorant."
"The polls will not be held based on the 1960 law," Berri told As Safir newspaper. "Those who think it is possible to hold them based on this law if (MPs) are ignorant of the legal and constitutional reality ."
"Article 11 of the 1960 law says the independent authority overseeing the elections should be established based on a cabinet decision … But the government will not form this authority as long as its parties along with the president are rejecting the 1960 law," Berri stressed.
"This automatically means that there won't be any elections based on this law for legal reasons," he said.
Charbel reportedly told As Safir in a statement that he was preparing for the polls based on the 1960 law, saying the non-implementation of a certain article does not prevent the elections from taking place.
Berri reiterated his call for intensified efforts to reach an agreement on an electoral law after rival March 8 majority and March 14 opposition MPs – members of a parliamentary subcommittee – failed following several rounds of talks to find common ground on an electoral draft-law.
Their failure compelled Berri to call for a meeting of a joint parliamentary committees on Wednesday, a move that several March 14 parties saw as a trap to force the opposition to take part in the sessions despite its decision to boycott all government-related activity in the aftermath of the assassination of Internal Security Forces Intelligence Bureau chief Wissam al-Hasan in October.
Addressing his critics, Berri said time is running out and he couldn't stand idle.
Prime Minister Najib Mikati discussed with Berri the preparations for Wednesday's meeting.
Mikati said before a consular delegation on Monday: "Given the recent discussions, it appears that political powers are leaning towards adopting an electoral law based on proportional representation."
"A new law will be approved if the discussions go as planned and if Speaker Nabih Berri's consultations are successful," he said
But former Prime Minister and current leader of the largest parliamentary bloc MP Fouad Siniora said during a press conference yesterday that it is impossible to implement a proportional representation type electoral law in the presence of Hezbollah's arms.
"It is impossible to implement proportionality in the presence of Hezbollah's arms," he was quoted as saying at his press conference in Hlaliyyeh, Sidon . Siniora was responding to the speech of Hezbollah chief Sayyed Hassan Nasrallah in which he voiced his support for proportionality.
The parliamentary subcommittee charged with agreeing on an electoral has met several times to discuss the following proposed draft-laws:
Proportional Representation ( PR)
Lebanon's Cabinet approved last August an electoral draft law which is referred to as the Charbel law ( in reference to Interior minister Marwan Charbel ) that called for proportional representation and divided the country into 13 districts as follows: Beirut 2, south Lebanon 2, Bekaa 3, north Lebanon 3 , Mount Lebanon 3.
The new electoral law was approved by the majority of ministers, including the Free Patriotic Movement Ministers (FPM) . However the 3 ministers that represent Progressive Socialist Party leader MP Walid Jumblatt's bloc voted against it.
According to analysts Proportional representation has long been an objective of Shiite representatives, long before the formation of Hezbollah in the 1980s—and even before Amal's in the 1970's. Yet, support for PR has put the Shiite political parties at odds with others and specially the Christians and the Sunnis.
Orthodox Gathering
FPM MPs Alain Aoun and Neemtallah Abi Nasr submitted another draft electoral law to the parliament even though the FPM ministers voted for the PR system . This is the so called "Greek Orthodox gathering proposal" which calls on each sect in Lebanon to vote only for its candidate in the elections based on one electoral district for the whole country .
A Christian four-party panel on the electoral law agreed last Sunday to endorse the so-called Orthodox Gathering proposal
The panel took its decision during a meeting held in Bkirki. The four-party panel comprises representatives from the Free Patriotic Movement, the Lebanese Forces, the Phalange Party and the Marada Movement.
The Orthodox law was also criticized by President Michel Suleiman, Premier Najib Mikati, National Struggle Front leader Walid Jumblat and several other Christian MPs specially those belonging to the Greek Orthodox sect
Small districts
March 14 Christian MPs Georges Adwan, Boutros Harb and Sami Gemayel submitted a draft electoral law based on 50 districts and winner take all majority to the Parliament's General Secretariat last October.
Most March 14 politicians prefer this law but it is opposed by all the Hezbollah led March 8 alliance
1960 electoral law
This is the current law which is based on the Qada( county) as the electoral district.
Jumblatt and his PSP MPs still favor this 1960 majoritarian (or "winner take all") system, but almost all the other lebanese politicians in March 14 ,March 8 and president Suleiman reject this law and call it unfair
Boutros commission electoral draft-law
In 2006, the government-appointed National Commission for a New Electoral Law, known as the Boutros Commission, authored a draft law that proposed major changes to the 1960 electoral system, but the recommendations have since been shelved.
The Boutros Commission called for a hybrid electoral law, under which 77 of Parliament's 128 members would be elected by winner-take-all, and the remaining 51 members would be elected by proportional representation.