Miss Lebanon, twin sister promoting tourism at Istanbul's EMITT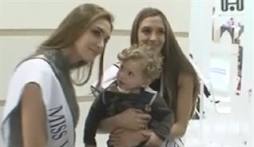 Miss Lebanon 2012 Rina Chibani, who is promoting tourism inside the Lebanese booth at the the Eastern Mediterranean International Travel and Tourism Exhibition (EMITT) in Istanbul  told LBC  " many people want to get to know Lebanon better, by asking very specific questions".
Tourism Minister Fadi Abboud commissioned Miss Lebanon 2012 Rina Chibany and her twin sister and first runner up Romy to represent Lebanon and "lure" tourists to visit Lebanon.
The presence of Rina and Romy at the exhibition created a lot of interest as visitors gathered around them to take photos and ask them about Lebanese touristic sites, according to LBC.
This is an annual fair which attracts dozens of countries from around the world. This year it is being held from January 24th to 27th.
Lebanon's public and private sectors are participating in the exhibition and are promoting the cultural, civilizational and social diversity of the country .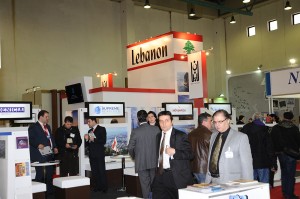 "Lebanon is home to 18 religious communities, ancient sites left from various civilizations, world-famous luxury clothing designers and all kinds of facilities to host people from across the world — if only the world knew more about it." reported the Turkish daily Todays Zaman.
The turkish daily quoted Mona Haddad Fares, director of Tourism Promotion in the Lebanon's Ministry of Tourism as saying " 20 percent of Lebanon's GDP comes from the tourism sector under normal circumstances , though the figure drops during times of crisis"
She told the daily : "In 2009-2010, the country saw its highest number of visitors, with 2.2 million tourists, adding "it is good for a country of four million."
Fares also told the daily: "Our biggest tourism market is the 15 million people of Lebanese origin who live across the world. Whatever the conditions are, they always want to come to Lebanon."