At least 26 die in Egyptian clashes over death sentences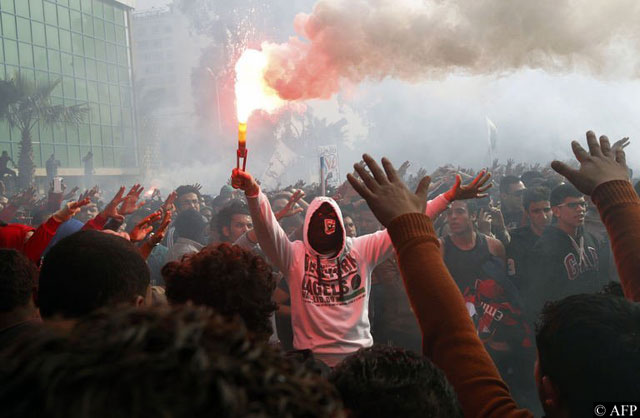 At least 26 people died on Saturday when Egyptians rampaged in protest at the sentencing of 21 people to death over a soccer stadium disaster, adding to bloody street turmoil confronting Islamist President Mohamed Mursi.
Armored vehicles and military police fanned through the streets of Port Said after the violence. The state news agency quoted a general as saying the military aimed to "establish calm and stability in Port Said and to protect public institutions".
Unrest flared with nationwide rallies on Friday to mark the second anniversary of the overthrow of autocrat Hosni Mubarak, a democratic revolution that protesters now accuse Mursi of betraying by ramming through an Islamist-hued constitution.
While anniversary-related violence subsided, a new outbreak hit Port Said after a court sentenced 21 men to die for involvement in the deaths of 74 people after a local soccer match on February 1, 2012, many of them fans of the visiting team.
Residents ran wildly through the streets of Port Said, outraged that men from their city had been blamed for the stadium disaster, and gunshots were reported near the prison where most of the defendants were being held.
Security sources said 26 people, at least two of them policemen, had been killed in the Mediterranean coastal city. State television reported more than 200 people had been wounded.
Witnesses said some men stormed two police stations in Port Said, where protesters lit tires in the street, sending black smoke funneling into the air.
At least nine people were killed in clashes with police on Friday, mainly in the port of Suez where the army has also deployed. Hundreds were injured as police rained down tear gas on protesters armed with stones and some with petrol bombs.
The schism between Islamists and secular Egyptians is hurting efforts by Mursi, freely elected in June, to revive an economy in crisis – deprived of fresh investment and tourism due to political upheaval – and stem a slide in Egypt's currency.
The political strife and lack of security that has blighted the Arab world's most populous country over much of the post-Mubarak era is casting an ominous shadow over a parliamentary election expected to start in April.
DIVERSITY
Highlighting tensions, the opposition National Salvation Front coalition called for a government of national unity and an early presidential vote among other demands. It said it would call for more protests next Friday and could boycott the parliamentary election if its demands are not met.
Mursi's opponents say he has failed to deliver on economic pledges or be a president representing the full political and communal diversity of Egyptians, as he pledged.
His supporters say his critics do not respect the democracy that has given Egypt its first freely elected leader.
The Muslim Brotherhood, which propelled Mursi to office, said in a statement that "corrupt people" and media who were biased against the president had stirred up anger on the street and incited violence.
At the Port Said soccer stadium a year ago, many spectators were crushed and witnesses saw some thrown off balconies after the match between Cairo's Al Ahly and local team al-Masri.
Families of victims in court cheered and wept for joy when Judge Sobhy Abdel Maguid read a list of 21 names "referred to the Mufti", a phrase used to denote execution, as all death sentences must be reviewed by Egypt's top religious authority.
A total of 73 people have been standing trial. Other rulings will be issued on March 9, the judge said.
One relative in the court shouted: "God is greatest." Outside the Al Ahly club in Cairo, fans also cheered. They had threatened more violence unless the death penalty was meted out.
Thousands took to the streets of Cairo, Alexandria and other cities on Friday to protest against what they call the creeping authoritarianism of Mursi's rule. Protesters in Cairo were again hurling stones at police lines in Cairo on Saturday.
SEEKING CHANGE
"We want to change the president and the government. We are tired of this regime. Nothing has changed," said Mahmoud Suleiman, 22, in Cairo's Tahrir Square, the cauldron of the 2011 anti-Mubarak revolt and near where youths stoned police.
Ahmed Salama, 28, a protester camped out with dozens of others in Tahrir, said: "The protests will continue until we realize all the demands of the revolution – bread, freedom and social justice."
Ismailia and Suez, cities which like Port Said lie on the Suez Canal, witnessed some of the worst violence on Friday. But a canal official said the unrest on Friday and Saturday had not disrupted traffic in the waterway vital to international trade.
In a statement in response to Friday's violence, Mursi said the state would not hesitate in "pursuing the criminals and delivering them to justice". He urged Egyptians to respect the principles of the revolution by expressing views peacefully.
The president met on Saturday with the National Defence Council, which includes senior ministers and security officials, to discuss the spate of violence.
In a televised statement, the National Salvation Front said it was holding Mursi responsible for the disturbances.
The Front was formed from disparate groups last year when Mursi awarded himself extra powers and fast-tracked an Islamist-flavored constitution to a referendum, opposed by the Front although the document was passed in the popular vote.
"Egypt will not regain its balance except by a political solution that is transparent and credible, by a government of national salvation to restore order and heal the economy and with a constitution for all Egyptians," prominent opposition politician Mohamed ElBaradei wrote on his Twitter account.
Until the Front was formed, the opposition had struggled to unite and their vote had been split at presidential and parliamentary polls, helping Islamists. The last parliament was dissolved based on court order, demanding a new vote this year.
Mustapha Kamal Al-Sayyid, a professor of political science at Cairo University, said the latest violence reflected the frustration of many liberal-minded Egyptians and others.
"The state of polarization between Islamists and others is most likely to continue and will have a very negative impact on the state's politics, security and economy," he said.
Inspired by the popular uprising in Tunisia, Egypt's revolution spurred further revolts across the Arab world. But the sense of common purpose among Egyptians two years ago has unraveled, triggering bloody street battles last month.
Reuters