Attack on Syria is attack on us, warns an Iranian official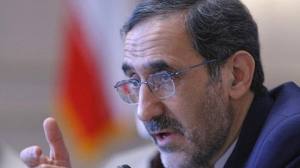 Iran considers any attack against Syria an attack on itself, an advisor to the Islamic Republic's supreme leader was quoted as saying Saturday, the strongest warning to date by a top Iranian official that Tehran will use any available means to keep the regime of President Bashar Assad in power.
Ali Akbar Velayati, an aide to Ayatollah Ali Khamenei, said Syria plays a major role in the "resistance front" of anti-Israel states and militant groups.
"Syria plays a very key role in supporting, or God forbid destabilizing, the resistance front. For this same reason, attack on Syria is considered attack on Iran and Iran's allies," Velayati was quoted by the semiofficial Mehr news agency as saying.
The comments reflect Iran's commitment to prevent the possible collapse of Assad, who is fighting a bloody war with rebels. More than 60,000 people have been killed since the conflict began in March 2011, according to the U.N.
Velayati, Iran's former foreign minister, said the Lebanese militant group Hezbollah and the Palestinian Hamas would had been defeated in wars with Israel without Syrian support.
"If Syria didn't provide logistical support to Hezbollah, Hezbollah and Hamas would have not achieved victory in the 33-day and 22-day wars (respectively)," he said.
He was referring to the 2006 Israel-Hezbollah War and Gaza War during the winter of 2008-2009. Both militant groups claimed victory although Israel has disputed this.
"Regional reactionary (regimes) and the West attacked the golden ring of resistance by targeting Syria," Mehr quoted him as saying, a reference to U.S. and Gulf Arab backing for the rebels.
Iran is Syria's most important ally in the Middle East. Tehran has provided Assad's government with military and political backing for years, and has kept up its strong support for the regime since the uprising began in March 2011.
Associated press