Food truck to promote Mideast peace
An Egyptian- American is trying to use food to promote peace in the Middle east between Arabs and Jews because he thinks if they can reconcile their falafel differences, they can make peace "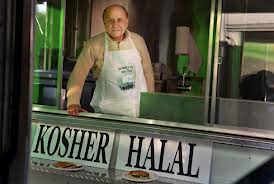 An Egyptian- American  , author of several books  and  holder of a PHD  degree in Mechanical Engineering is trying to use a food truck to promote peace in the Middle east between Arabs and Jews because he thinks if they can reconcile their falafel differences, they can make peace ".
"I'm choosing falafel because both Israelis and Arabs claim it's their native food," Soliman said. "Maybe if they can reconcile their falafel differences, they can make peace."
_____________________________________________________
Washington post Article printed Jan.26, 2013
Moustafa M. Soliman, a 76-year-old Egyptian American author and activist, wants to spread the message of attainable peace between Arabs and Jews with a food truck that serves kosher eats from one window and halal treats from another.
"All aboard the vehicle to peace!" said Soliman one recent morning at a Manassas warehouse. He was there to inspect his new truck, which has both the Star of David and the Islamic symbol of the crescent moon painted on the side.
Washington is a magnet for offbeat activists, but even by this city's standards, Soliman's strategy may seem eccentric.
So forget the muddy public spaces of Occupy D.C. and what may be the country's longest-running anti-nuclear peace vigil by protesters-in-residence in Lafayette Square — soon Soliman's food truck will be parked at colleges, mosques, synagogues and churches in and around the nation's capital.
Soliman, a novelist and retired Energy Department staffer, hopes that if the Washington truck is successful it will help fund at least five more trucks in cities such as Chicago and New York, along with trucks in Israel and the West Bank.
"It's just one spark," said Soliman, whose round face was freshly shaved above his green pullover sweater. "Hopefully it will bring people from different backgrounds, who are waiting on line, to talk together."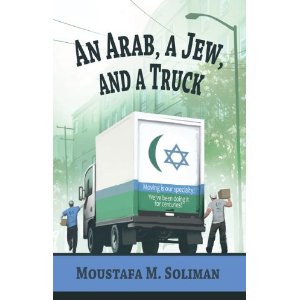 He retired after 25 years managing the U.S. government's often problematic energy collaborations with Israel, Egypt, Jordan, the Palestinian Authority and Saudi Arabia. If that sounds like real work, hard work, headache-inducing work, that's because it was. "Deals would fall apart," he said.
This time around, he's opting for a far more direct approach.
"It's this really clever way to get Arabs and Jews to take a sort of communion together," said Libby Traubman, co-founder of the Jewish-Palestinian Living Room Dialogue, which tries to facilitate interaction between Arabs and Jews. "It think it will work because, well, everyone likes food."
The idea for the food truck was derived from Soliman's recently published novel, "An Arab, a Jew and a Truck." The book tells the story of a devout Palestinian Muslim and an American Orthodox Jew who are forced by circumstance to live together and share a kosher kitchen in the Bronx. They end up starting a moving business together, and by the book's end are dreaming of launching a kosher and halal food truck.
If it all sounds like the plot of a TV sitcom, Soliman doesn't mind.
"I have spent years and had numerous meetings trying to get energy projects to work with Israeli and Arab officials, then a government minister leaves or Hamas fires a rocket or Israel launches an attack and the whole thing becomes hostage to who's in power," he said. "When political structures are shaky, it's the grass roots that can really make a difference. I started to think, let's literally take it to the streets."
Washington has plenty of activists, but a lot of them wear suits and walk the halls of Congress. People like Soliman are known by freedom-of-speech advocates as "protest innovators," said John W. Whitehead, president of the Rutherford Institute, a civil liberties group that is taking the case of Rives Miller Grogan, who climbed a tree on the Mall to declaim against abortion on Inauguration Day.
"It's kooky and quirky, but it's also really promising and a neat sign," Whitehead said. "We are living during a time when ordinary Americans feel like they aren't being heard, so what's happening is, people are frustrated, they come to Washington and find ways to get attention."
Soliman has a PhD in mechanical engineering, perhaps not surprisingly from the University of California at Berkeley. He remembers fierce debates over Israel and Palestine when he was a graduate student there in the early 1960s.
"Each side stubbornly stuck to his or her rigid position," he said. "Those debates disturbed me because they left me feeling that there was an endemic hatred between Arabs and Jews, while ignoring the fact that Arab societies historically included Muslims, Christians and Jews."
Raised in Cairo, Soliman has happy memories of his Jewish neighbors coming over for weekly card games with his parents. "I was always really haunted by how polarized and hostile things became" in later years, he said.
He started to write his novel in 1977, inspired by Egyptian President Anwar Sadat's historic visit to Israel, which launched peace negotiations between the two countries. But he put the book aside to work and raise a family, finishing his writing only recently.
"Sadly, all these years later, the issues were the same," said Soliman, who added that his wife is Christian and his son married a woman who is half Jewish. "I am someone who really believes that people can move past politics," he said.
Some Washington activists who also happen to be entrepreneurs think Soliman's timing is perfect. Nick Vilelle, 33, is one of the founders of Cause, which calls itself a "philanthropub" and opened three months ago in the U Street corridor. All the restaurant's profits go to a rotating list of causes.
"It's the sort of thing, that, if it's going to work anywhere, it's Washington, because we have this socially aware population and this nonprofit population and everybody is young and wants to go out," said Vilelle, a former Peace Corps volunteer in Africa.
Soliman, he said, is an example "of someone willing to push the envelope and re-imagine activism."
So what will the food truck serve?
"I'm choosing falafel because both Israelis and Arabs claim it's their native food," Soliman said. "Maybe if they can reconcile their falafel differences, they can make peace," he said and added with a laugh, "Somebody can call Larry David! This really does sound like a sitcom."