Gemayel: We are living in a country of lies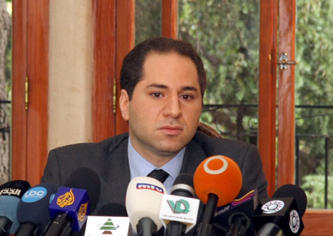 MP Sami Gemayel, a key member of the Phalange party parliamentary bloc stressed on Sunday that the ongoing debate on the electoral law does not mean that we should ignore the other debate which is related to weapons, noting that "we are living in a country of lies where each party is trying to dominate the other in the absence of a state project."
During a press conference he held in Bekfayya, MP Gemayel said that the Phalange party will continue the battle with its allies to achieve sovereignty and abolish extra-state weapons.
Gemayel said that the first condition to build a state is that the Lebanese citizen be respected as an individual and be granted his rights, pointing out that Lebanon is formed of historical groups which sought refuge in it, stressing that it is a duty to preserve the specificity of each group in order to ensure coexistence.
"If we abolish representation of minorities or any group, we would be abolishing a part of our diversity and the Lebanese culture," he stressed.
Gemayel called for a strong and advanced civil state which preserves the rights of all individuals and maintains coexistence, stressing the need to reach an electoral law which would guarantee just representation for all and preserve equal sharing between Christians and Muslims.
Commenting on the Electoral law that was approved by the Hezbollah dominated cabinet and which calls for proportional representation , Gemayel said:
"Proportional representation electoral law is dangerous since it takes Lebanon back to logic of numbers and contradicts parity." He called on all parties to be positive, as elections are near and there may not be enough time to agree on one law accepted by all.
LBCI